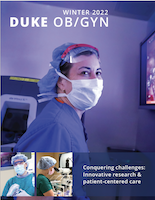 ON THE COVER
Angeles Alvarez Secord, MD, MHSc, is an internationally recognized gynecologic oncologist whose work in emerging immunotherapies and novel therapeutics has led to advancements in conquering women's cancer. Insets: Urogynecologist Anthony Visco, MD; and Erin White, MS, IVF lab manager/program manager at the Duke Fertility Center.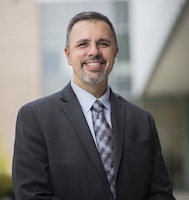 Conquering challenges through innovative research and patient-centered care is a tall order, and one I'm proud to say was at the forefront in Duke Ob/Gyn during one of the most difficult times in history, and in healthcare in particular. Faculty, many of whom have trained at Duke, are proud to educate the next generation of specialists and subspecialists at Duke University School of Medicine, which rose to No. 3 among 122 medical schools in the nation for research in 2021 in the U.S. News & World Report annual ranking of graduate programs. Duke Ob/Gyn is one of seven Duke specialty programs in the Duke School of Medicine that placed in the top 10, and Duke Ob/Gyn was ranked No. 8 in the nation.
As you read this edition of our annual publication, you will see firsthand how Duke Ob/Gyn is committed to ensuring that all women in need of care receive the benefit of the most state-of-the-art, impactful and innovative treatments that the Department's world-class faculty and trainees provide.
---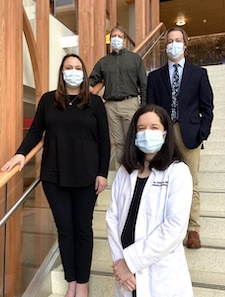 A cancer diagnosis brings with it a flood of emotions – sometimes one at a time, often all at once. A patient's initial questions relate to their type of cancer, course of treatment and most importantly, the likelihood of survival.
What may not immediately come to mind is the possible effect the cancer and its treatment could have on the patient's future ability to have children. Just 20 years ago, this was rarely considered. Compared to now, cancer survival rates were lower, and the technology to preserve future fertility was not readily available.
The emerging field of onco-fertility brings together oncology and reproductive endocrinology specialties to maximize the reproductive potential of cancer patients and survivors. Therapies involve procedures performed prior to the beginning of cancer treatment in an effort to preserve options for both men and women related to future conception and completion of a successful pregnancy.
---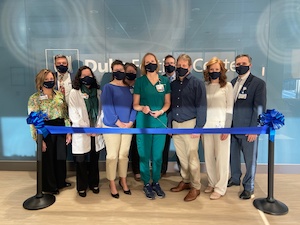 The Duke Fertility Center has moved to a new location – centrally located between Raleigh and Durham, in Morrisville – that provides a range of features designed to enhance the patient experience and clinical outcomes. The center, which opened to patients in December 2021, is located within Duke Health Center Arringdon.
The new site features a large embryology laboratory with state-of-the art embryo culture incubators, workstations and isolettes that closely mimic the in vivo environment. Ultrasound rooms, procedure rooms and recovery rooms have also been designed to create a warm and welcoming experience.
---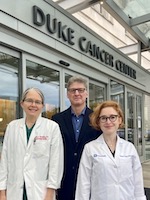 Duke University is one of three sites that have been awarded a total of $4.4 million in National Institutes of Health/National Cancer Institute Cancer Intervention and Surveillance Modeling Network (CISNET) comparative modeling funding. Duke will receive $1.2 million.
The CISNET grant will be used to study ways of reducing uterine cancer mortality through primary prevention, screening and treatment approaches. In addition to Duke, the other research sites that are part of the study cohort are Columbia University (lead site) and Mt. Sinai Medical Center. CISNET is a consortium of National Cancer Institute (NCI)-sponsored investigators who use simulation modeling to improve the understanding of cancer control interventions in prevention, screening and treatment and their effects on population trends in incidence and mortality. These models can be used to guide public health research and priorities, and they can aid in the development of optimal cancer control strategies (more information at cisnet.cancer.gov).
---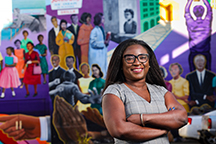 In the United States, African Americans and Hispanics tend to have poorer cancer outcomes compared to white patients. In ovarian cancer, survival rates for white women have increased since the 1970s, but survival rates for Black women have gone down.
Tomi Akinyemiju, PhD, associate professor and vice chair for diversity, equity and inclusion in the Department of Population Health Sciences with a secondary appointment as instructor in Ob/Gyn, and associate research professor in the Duke Global Health Institute, points out that disparities like these have multiple causes.
---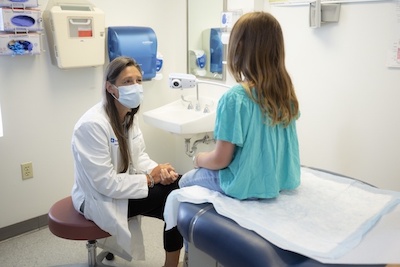 For young children and adolescents with gynecologic conditions, it can be challenging to find a pediatrician or adult gynecologist with the specialized training and experience necessary to accurately diagnose and treat conditions in this specific age group.
With the recent arrival of Jennifer O. Howell, MD, Duke now offers treatments for gynecologic issues in children from birth through age 21 at Duke Women's Health Associates Arringdon in Morrisville and Duke Women's Health Associates at Patterson Place in Durham.
---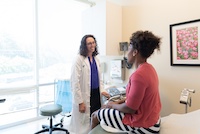 Highlights in Maternal-Fetal Medicine research
Improving pregnancy by understanding the mechanisms of placenta-originated pregnancy complications.
Work centered on the hypothesis of immune dysfunction in preterm birth, integrating immunologic research with high-risk obstetrical clinical practice to identify new immune system targets for reducing the burden of preterm birth. Immune system tolerance is a requisite for a healthy pregnancy, but not every woman's immune system is accepting of a growing baby, particularly in women with preexisting immunological conditions.
Eliminating racial disparities in preterm birth, particularly among Black women. 
Conducting a study on Placenta Accreta Spectrum (PAS) focusing on the validation of the International Society of Ultrasound in Obstetrics and Gynecology consensus for reporting PAS, which is endorsed by the Society for Maternal-Fetal Medicine.
 
Center for Women's Health Data Science
Duke faculty and collaborators in the Center for Women's Health Data Science, led by J. Eric Jelovsek, MD, MMEd, MSDS, are harnessing the power of these data to make better clinical decisions and benefit patients. A summary of this work appears in the Center for Women's Health Data Science Biannual Report
---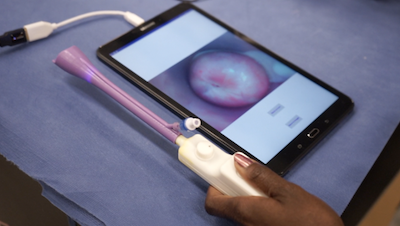 Cervical cancer is the fourth most common cancer in women worldwide, according to the National Cancer Institute. Researchers and faculty at the Duke Center for Global Women's Health Technologies (GWHT) have committed to addressing barriers to early detection of the disease, and mechanisms for cervical cancer screening through education, technology and cultural awareness.
---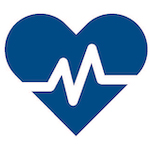 Our People
Our Patients
Our Research
---
Outstanding accomplishments by Duke Ob/Gyn
National honors
---
CLICK THIS LINK to access the interactive map.
The interactive map is best viewed from a desktop or laptop computer (not tablets or mobile devices).

Hover over a colored dot on the map to see information.
Read past issues of Duke Ob/Gyn's Annual Magazine