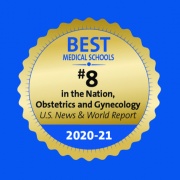 Conquering challenges through innovative research and patient-centered care is a tall order, and one I'm proud to say was at the forefront in Duke Ob/Gyn during one of the most difficult times in history, and in healthcare in particular. Faculty, many of whom have trained at Duke, are proud to educate the next generation of specialists and subspecialists at Duke University School of Medicine, which rose to No. 3 among 122 medical schools in the nation for research in 2021 in the U.S. News & World Report annual ranking of graduate programs. Duke Ob/Gyn is one of seven Duke specialty programs in the Duke School of Medicine that placed in the top 10, and Duke Ob/Gyn was ranked No. 8 in the nation.
As you read this edition of our annual publication, you will see firsthand how Duke Ob/Gyn is committed to ensuring that all women in need of care receive the benefit of the most state-of-the-art, impactful and innovative treatments that the Department's world-class faculty and trainees provide.
Here are highlights:
Duke University is one of three sites that have been awarded a total of $4.4 million in National Institutes of Health/National Cancer Institute Cancer Intervention and Surveillance Modeling Network (CISNET) comparative modeling funding. Duke will receive $1.2 million.
Duke's CISNET investigators are Laura Havrilesky, MD, MHSc; Evan Myers, MD, MPH; Haley Moss, MD, MBA; and Marc Ryser, PhD (Depts. of Population Health Sciences and Mathematics).
• Providing hope to patients facing a diagnosis of cancer and the support needed to navigate the fertility preservation process is offered through the Duke Onco-Fertility Program. Reproductive endocrinology and infertility specialist Kelly Acharya, MD, along with colleagues at the Duke Cancer Institute, have built a nationally recognized program.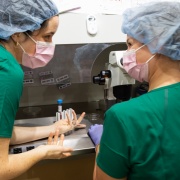 • A state-of-the art new Duke Fertility Center opened in December 2021. The center continues to provide the full range of treatment options for heterosexual and LGBTQ+ couples, as well as individuals, to reach their reproductive wellness goals.
• Race, and how people are treated differently because of it, leads to major differences in health outcomes for cancer and other diseases. Tomi Akinyemiju, PhD, and gynecologic oncologist Rebecca Previs, MD, MS, are studying ways to improve this.
• For young children and adolescents with gynecologic conditions, it can be challenging to find a pediatrician or adult gynecologist with the specialized training and experience necessary to accurately diagnose and treat conditions in this specific age group. Duke Ob/Gyn welcomed Jennifer O. Howell, MD, one of the few in NC with a focused practice designation in this area, who joined the Department this year.
A vast array of research focused on maternal-fetal medicine by Liping Feng, MD; Jennifer Gilner, MD, PhD; Sarahn Wheeler, MD; and Luke Gatta, MD, is making an impact on preterm birth prevention and improvement of maternal health.
Global health collaborations and advancements in technology have helped eliminate barriers to effective cervical cancer screening around the globe. Megan Huchko, MD, MPH, and collaborators demonstrate the progress.
Thank you for taking the time to learn about how Duke Ob/Gyn is leading the way in women's healthcare.