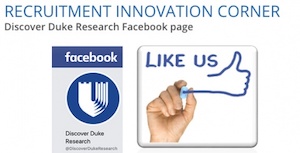 In August 2020, the Duke Clinical & Translational Science Institute (CTSI) launched a new a mechanism to recruit for research studies using social media - the @DiscoverDukeResearch Facebook page. A new Standard Operating Procedure regarding the use of social media to recruit participants for research is available on the DOCR website (scroll down to DOCR Procedures). The Recruitment Innovation Center also has comprehensive resources for how to successfully implement campaigns within Duke guidelines.
The goal of the new platform is to communicate with our community about our research, share stories, study results and staff profiles, and relevant health information, as well as build on the science of digital recruitment, the with end result being maximized communication about research and trials within Duke approved guidelines that align with researchers' identified goals. Any study team at Duke who is engaging in research/clinical trials is encouraged to use this new resource.
The new platform serves as a template for how plan to use social media to effectively recruit for studies, and ensures the process meets IRB, Duke Marketing branding requirements.
The CTSI's Recruitment Innovation Center (RIC) team can help discuss goals, identify an audience, plan campaigns and create study ads/boosted content posts for free (the cost of social media ads or post boosts are not included in the consultation). 
Researcher and study team profiles and interviews can be created, and metrics will be available when campaigns are complete.