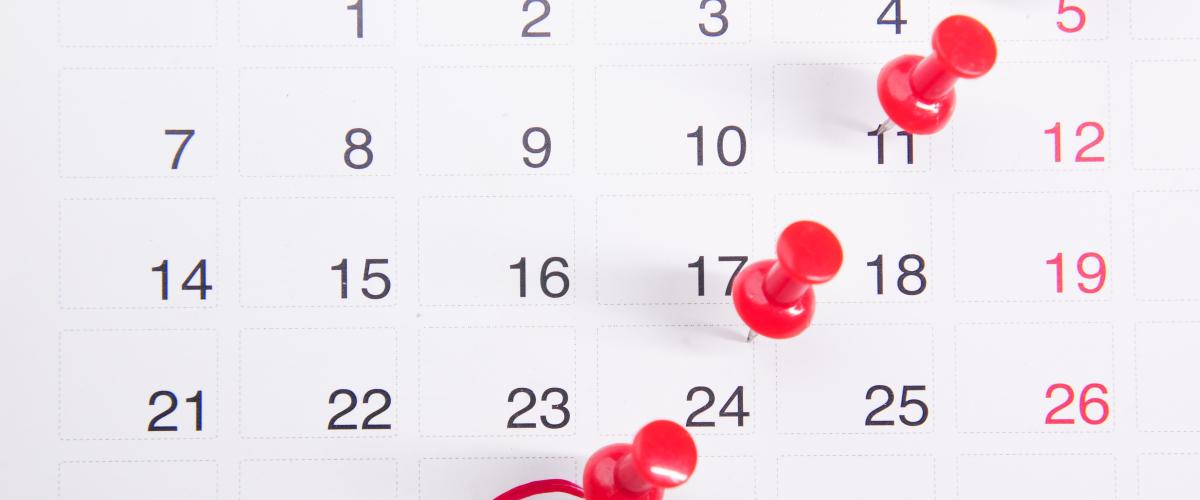 This page will include upcoming presentations, funding opportunities, leadership program information and more!
Featured Program
Duke Research and Innovation Week — Jan. 29-Feb. 2
The Duke Centennial Research and Innovation Week will be held from Jan. 29 to Feb. 2, 2024. The event celebrates the past, present and future of research and innovation at Duke with a weeklong lineup of exciting events, panels and showcases. Programming includes lectures on AI, race and politics, the future of Duke research and more.
---
Duke's Sexual and Gender Diversity Advisory Council
The Sexual and Gender Diversity Advisory Council (SAGDAC) is a think tank that helps support collaboration and a wide range of innovative LGBTQ+ initiatives across Duke. Watch this video to learn more about the council's advocacy work—from ensuring clinicians use appropriate terms in medical records to partnering with law students to address legal issues such as denied insurance claims.
Next Gen Pregnancy Initiative — Due Dec. 5
The Burroughs Wellcome Fund is accepting proposals for the Next Gen Pregnancy Initiative. The initiative is designed to stimulate both creative individual scientists and multi-investigator teams to approach healthy and adverse pregnancy outcomes using creative basic and translation science methods. The deadline is Tuesday, Dec. 5.
Duke CTSI Symposium — Dec. 7
Register now for Duke CTSI's annual Integrating Special Populations Research Symposium: "Meeting Participants Closer to Where They are At" on Thursday, Dec. 7 from 12-2 p.m. at Chesterfield, Room 550. The program offers two continuing education credits and light refreshments will be served.
NCCU Assistant Professor Charity Watkins, PhD, will be presenting "Birth Justice IS Social Justice: The Role of Social Workers in Black Maternal Health Care and Research."
SoM Bridge Funding Program — Due Dec. 15
The deadline for applications for the next cycle of the School of Medicine Bridge Funding Program is Friday, Dec. 15. The program helps investigators in the SoM who have had a lapse in R0l-or P0l-level support. U-level awards and R21s will not be considered. Up to $100,000 per lapsed R0l grant or up to $200,000 per lapsed P0l grant will be provided.
DUHS Safety and Quality Conference — Abstracts Due Dec. 31
The annual DUHS Safety and Quality Conference will be held Wednesday, April 24, 2024 at the Trent Semans Center Great Hall. Abstract submissions are due by Sunday, Dec. 31.
Scholars@Duke 3.0 — Learning Resources 
Scholars@Duke offers opportunities to learn about Scholars 3.0, which launched in June. Scholars@Duke users can register for the earliest class that is convenient for their schedule.
FAIR HEALTH Workshop — Jan. 8
The FAIR HEALTH (Fostering AI/ML Research for Health Equity and Learning Transformation) workshop will be held on Monday, Jan. 8, 2024 from 9 a.m. to 12 p.m. in person at Sarah Duke Gardens in Kirby Horton Hall. This event is open to anyone who is passionate about advancing health care through innovation while ensuring health equity and fairness in clinical algorithms, including faculty, staff and students.
She Dunks on Endometrial Cancer — Feb. 25, 2024
You are invited to join The Endometrial Cancer Molecularly Targeted Consortium (ECMT2) at the 5th Annual She Dunks on Cancer Educational Symposium, held on Feb. 25, 2024 at 2 p.m. at The DeJoy Family Club room or virtually. Following the symposium, participants will cheer on the Duke Women's Basketball team at 5:30 p.m. at Cameron Indoor Stadium.
SGO Annual Meeting — March 2024
The Society for Gynecologic Surgeons (SGS) Annual Meeting will be held in Orlando, Florida in March of 2024. Cassandra Kisby, MD, MS, will be teaching two courses at the meeting:
Postgraduate Course: Surgical Management of Mullerian Anomalies; Sunday, March 24, 2024, 8:00 a.m.-12:00 p.m.
Academic Round Table: When Dilating Isn't Enough: Complex Urogenital Reconstruction for Vaginal Atresia and Agenesis; Monday, March 25, 6:30-7:30 a.m.