Women's Reproductive Health Research (WRHR) Program
The WRHR program provides opportunities for obstetrician-gynecologists to obtain state-of-the-art training and experience in basic, translational and clinical women's reproductive health research. The WRHR program is funded through NICHD's Gynecologic Health and Disease Branch and co-sponsored by the NIH Office of Research on Women's Health (ORWH).
The Duke WRHR training program combines cutting-edge research experiences with an innovative and proven career development framework to help develop the next generation of ob/gyn clinician-scientists. Our program supports up to two WRHR early stage faculty at any one time, across six research areas of excellence aligned with departmental and institutional expertise and priorities:
Reproductive Infectious Disease and Immunology

Gynecologic Cancer

Peri-conceptional Wellness and Early Human Development

Pregnancy and Perinatology

Pelvic Floor Disorders

Innovative Research Methods
Announcements
2023 K12-Women's Health and Career Development Symposium held on February 17th at

 

Duke Trent Semans Great Hall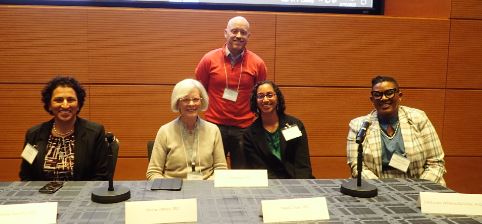 This annual symposium is organized by the UNC and Duke/NCCU Building Interdisciplinary Research Careers in Women's Health (BIRCWH-K12) and Women's Reproductive Health Research (WRHR-K12) programs. It is just another way the three universities can share resources to nurture the careers of junior faculty at all institutions while bringing fresh perspectives to the field of women's health. This research-career-oriented meeting featured presentations by BIRCWH and WRHR scholars and a panel discussion focusing on The "–ships" To Success: Navigating Academia, led by Geeta Swamy, MD, Duke University's Associate Vice President for Research and Vice Dean for Scientific Integrity.