The Department of Ob/Gyn has been approved for fellowship training in Complex Family Planning by the ACGME. The inaugural two-year fellowship program will begin in the 2024-2025 academic year.
About the Program
The fellowship in Complex Family Planning seeks to train leaders in clinical care, research and advocacy. Duke serves a high-risk patient population and aims to protect reproductive health care access for patients in the South.
Program Director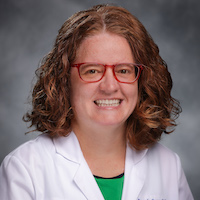 Dr. Beverly Gray has been a faculty member in the family planning clinic since 2011. She has served as the residency program director and Ryan Family Planning Clinic director. She is also the chief of the Women's Community and Population Health Division and serves as the ob/gyn faculty lead for the Duke Gender Health and Wellness Program. Her research interests are contraceptive counseling, pain control during office gynecologic procedures and medical education. She is the founder of the DREAM (Duke Reproductive Health Equity and Advocacy Mobilization) team.
Program Highlights
Strong clinical training at Duke University Hospital providing routine and complex care for patients from all over the Southeast. Our clinical volume has doubled since the Dobbs v. Jackson Women's Health Organization decision. By Fall 2024, we will have five CFP and two generalist core faculty, as well as two research faculty members supporting our fellowship. We will also have two faculty with expertise in gender affirming care and opportunities to continue obstetrics care.

Clinical opportunities for learning/training with Planned Parenthood South Atlantic.

Excellent advocacy/media training and a structured advocacy team: the DREAM (Duke Reproductive Health equity and advocacy mobilization) team.

Supportive department, chair and academic environment.

Collaborative relationships across the institution with active work with the following schools/centers: Bioethics, Duke Clinical Research Institute, Population Health, Law School, Center for Documentary Studies and Duke Cancer Institute.

Opportunities to complete master's in clinical research, public health or bioethics.

Ongoing research focused on Medicaid expansion and gynecology care; pain experience with gynecologic procedures; social media engagement; abortion access. Internal research funding exists for fellows through the department and institution.

Durham is a fast growing, dynamic place to live! Driving distance from the mountains and coast. Great place to raise a family. Excellent place to live if you love good food.