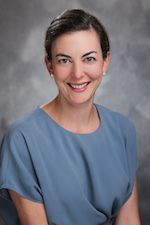 Program Director Dr. Brittany Davidson
Dr. Brittany Davidson has been a member of the Division of Gynecologic Oncology at Duke University Medical Center since 2016. She completed residency at the University of Texas-Southwestern/Parkland and fellowship at Duke University Medical Center. She was appointed fellowship director in January 2022. Her research interests lie at the intersection of gynecologic oncology and palliative care, helping patients and their families navigate the end of life gracefully. Her other interests include communication skills training for healthcare professionals and surgical education.
Dr. Davidson also serves as the Residency Associate Program Director for the Department of Ob/Gyn at Duke.
Program Overview
The primary goals of the Gynecologic Oncology Fellowship Program are to prepare trainees to deliver the best possible clinical care in the areas of diagnosis, treatment and prevention of gynecologic malignancies, and to provide a platform for trainees who aspire to careers in academics and research.
The Duke fellowship is a three-year program. The first year is devoted entirely to research and there are NO clinical responsibilities. Fellows are exposed to and mentored in a wide variety of basic, translational and clinical research with a goal of preparing them to develop into successful independent researchers. Graduate level courses are also part of the research year, including biostatistics and an introduction to clinical research.
Over the past few years, most fellows have done health services research projects. Duke has an outstanding Masters Program in Clinical Research that some fellows have completed. The second and third years of the fellowship are spent almost entirely on the gynecologic oncology service at Duke University Medical Center. There is a balanced mix of open, laparoscopic and robotic surgery, and we have widely adopted sentinel lymph node mapping approaches. We also manage chemotherapy treatment of our patients, including targeted therapies. The fellowship includes significant experience in palliative care, as we follow our patients throughout the course of their journey in concert with palliative care specialists. Academic time is made available during the clinical years to allow completion of quality improvement and clinical projects.