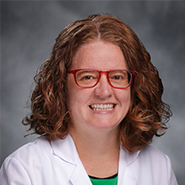 Duke's Obstetrics and Gynecology program is proud and honored to train the next generation of leaders in our field. During the four-year program, trainees gain knowledge, skill,ability and judgment to acquire:
Confident, high-level, clinical skills and judgment in clinical problem solving for the office and acute care environments.
Effective utilization of diagnostic techniques and skills for evaluation and management of all patients.
Proficiency in diagnosis and management of all clinical problems in general obstetrics and gynecology. 
Exposure and experiences in the subspecialties of gynecologic oncology, maternal-fetal medicine, reproductive endocrinology and infertility, urogynecology and ability to identify patients requiring referral to a sub specialist. 
Exposure to subspecialty fellowships for residents wishing to pursue further training. 
Effective communication skills with patients, colleagues and support staff in a professional, competent, ethical and caring manner.
Opportunity to perform and participate in clinical research, various scientific forums and critical analysis of medical literature. 
Practice competency skills consistent with the ACGME requirements. 
A commitment to life-long learning through self-education and teaching others. 
Skills to become advocates for women's health care on a local, state and national level.
Applicant Resources
Diversity and Inclusion
At the Duke Department of Obstetrics and Gynecology, we believe that diversity and inclusion are key drivers of institutional excellence that can accelerate our ability to innovate and solve complex problems. The department is committed to developing and implementing strategies to foster a culture of inclusion in which highly qualified students, faculty and staff from diverse talent pools experience a genuine sense of belonging, engagement and achievement.  
Sexual and Gender Diversity Advisory Council (SAGDAC)
Health Equity
Duke addresses health equity through clinical service, research, education, and community engagement.