Fellows gain sufficient knowledge and experience to drive quality improvement and patient safety initiatives, allowing them to lead future quality and safety programs in healthcare. 
Core didactic course: The fellow will select and complete 1-2 comprehensive approved core courses, offered through the Duke University. Examples include: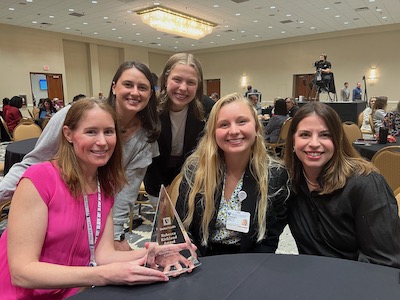 ISLC: Improvement Science Leadership Course —This course, run by Duke's Department of Pediatrics and open to QI fellows from Ob/Gyn, is a comprehensive and engaging experience that teaches the basics of improvement science, provides coaching on the fellow's yearlong approved capstone QI project and allows frequent opportunities to present the project to like-minded peers.
CLP Clinical Leadership Program — This program is overseen by the Duke School of Medicine; several applicable semester-long didactic courses are available, including:

CLP-201: Management, Leadership and Team Development
CLP-206: Quality Measurement and Improvement for Clinical Leaders
CLP 215: Health Care Operations: Perspectives for Continuous Improvement
Professional development in Quality and Safety: The fellow will gain experience in the conduct of quality and safety initiatives through participation in institutional and departmental quality programs. Examples include:
Duke Hospital Women's Core Safety Committee
GME Patient Safety and Clinical Quality Council
Obstetrics and Gynecology Quality, Safety and Peer Review Committee
Obstetrics Peer Review Committee
Gynecology Peer Review Committee
Core reading: Each fellow will complete required core reading lists on Leadership, Quality and Safety.
Core certifications: Each fellow will complete the Institute for Healthcare Improvement's Basic Certification in Quality and Safety; pass the Certified Professional in Patient Safety (CPPS) examination; and complete Duke Lean SixSigma Greenbelt training. 
Journal Club and Conference in  Quality and Patient Safety: Each fellow will attend this monthly conference in conjunction with other Duke Health Quality and Safety trainees (Departments of Medicine, Pediatrics and Medical Oncology). Fellows will identify a topic, do background reading and research and present the topic or paper. Faculty and invited experts will contribute to the discussion.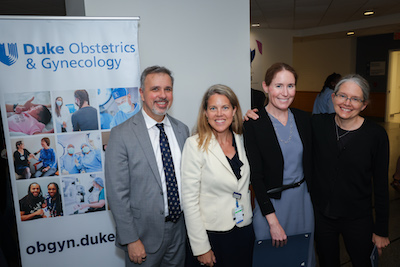 Capstone project: Each fellow will conceptualize, design and conduct a capstone project in quality and patient safety, to be presented at the Duke Department of Ob/Gyn's Hammond Research Day in May. The fellow will build a clinical stakeholder team for the project and will receive mentorship and support from our core faculty. 
Educator opportunities: The fellow will interact frequently with resident trainees who are interested in QI topics, including our Quality and Safety Chief Residents. Opportunities exist to present Quality and Safety lectures to residents and to co-mentor resident QI projects. 
---
Patient Care
Fellows will apply quality improvement and patient safety principles in providing clinical care and developing improvement projects for ambulatory and hospital care in Obstetrics and Gynecology.
Fellows will commit at least 60% of their time to the fellowship, while working in their clinical specialty no more than 40% of the time (2 clinical days/week and 2 nights/month Gynecology hospital call taken from home).