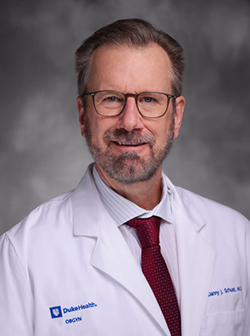 Program Director Dr. Danny Schust
Dr. Schust is an internationally recognized researcher with expertise in clinical work, research, education, mentorship and administrative leadership. His research interests and expertise focus on the areas of early pregnancy, early placental development and the immunology of the human maternal-fetal interface.
Dr. Schust is the director of the national NIH-sponsored K12 physician scientist training program, the Reproductive Scientist Training Program  (RSDP).
The Duke Reproductive Endocrinology and Infertility (REI) fellowship program is designed to provide outstanding clinical and investigative skills to pursue an academic career in REI. The skills include reproductive surgery, endoscopic and reconstructive surgery, assisted reproductive technology (~280 IVF cycles/year), andrology, pediatric endocrinology and medical endocrinology.
Fellows will have 18 months dedicated to research and 18 months devoted to clinical services. The first 12 months of the research rotation is entirely focused on research.