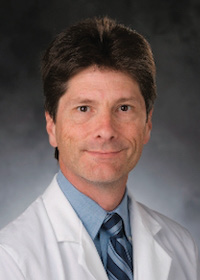 Program Director Dr. Thomas Price
Dr. Thomas Price has been a member of the Division of Reproductive Endocrinology and Infertility at Duke University Medical Center since 2003. He completed residency at the University of North Carolina and fellowship at the University of Texas Southwestern Medical Center. He was appointed fellowship director in 2007. He has been involved in research since completing his training, including basic science and clinical research. His basic science efforts have focused on how progesterone influences mitochondrial function. Clinical efforts have focused on new sterilization techniques and techniques for treatment of fibroid tumors.
The Duke Reproductive Endocrinology and Infertility (REI) fellowship program is designed to provide outstanding clinical and investigative skills to pursue an academic career in REI. The skills include reproductive surgery, endoscopic and reconstructive surgery, assisted reproductive technology (~280 IVF cycles/year), andrology, pediatric endocrinology and medical endocrinology.
Fellows will have 18 months dedicated to research and 18 months devoted to clinical services. The first 12 months of the research rotation is entirely focused on research.