Duke Ob/Gyn's Minimally Invasive Gynecologic Surgery (MIGS) fellowship is a two-year program that seeks to provide comprehensive subspecialty training in advanced minimally invasive gynecologic surgical procedures.
Our trainees will develop skills in advanced laparoscopic, robotic, abdominal and vaginal surgery to address complex pelvic surgery for gynecologic conditions that include uterine fibroids, advanced endometriosis, benign ovarian neoplasms and chronic pelvic pain.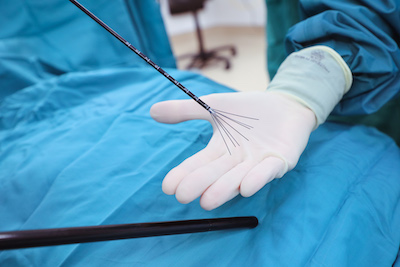 With a strong collaborative relationship with Urogynecology and Reconstructive Pelvic Surgery, Reproductive Endocrinology and Infertility and Colorectal Surgery, fellows will have comprehensive training in advanced surgical techniques as well as patient evaluation and management. Fellows will also be mentored in research methodology to develop and implement research protocols and will present at national meetings. They will have the opportunity to take coursework in biostatistics, epidemiology and research design with the option of a Masters in Clinical Health Sciences through the Duke University School of Medicine Clinical Research Training Program. Through Duke's state of the art simulation lab (Surgical Education and Activities Lab, or SEAL) fellows will have access to laparoscopic trainers, VR simulators and robotic simulators to develop their own surgical skills and teach residents and medical students.
Through this multimodal approach to training, fellows will graduate with the expertise necessary to independently provide evidence-based, patient-centered medical care; perform complex gynecologic surgeries; and contribute to the field of gynecologic surgery through research, education and innovation.
The Minimally Invasive Gynecologic Surgery Fellow Experience at Duke