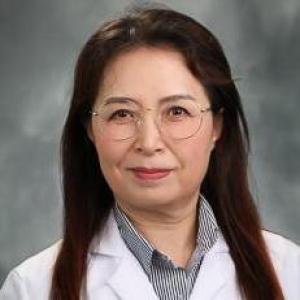 Principal Investigator
Assistant Professor in Obstetrics and Gynecology
Member of the Duke Cancer Institute

Location
Chesterfield Building Suite 510, 701 W. Main Street, Durham, NC, 27701
Overview
Zhiqing Huang, MD, PhD, is an Assistant Professor in the Division of Reproductive Sciences in the Department of Obstetrics and Gynecology at Duke University Medical Center.
Her research interests include identifying new biomarkers for ovarian cancer based on DNA methylation and gene expression profiles, studying the response of cancer stem cells to chemotherapy using a xenograft model and ovarian cancer cell lines and epigenetics.
Dr. Huang's research focus also includes the roles of age-related changes in the tumor microenvironment on ovarian cancer progression, and drug development for ovarian cancer showing chemoresistance and recurrence. In the epigenetic research, she has involved the utilization of numerous techniques to address fundamental questions in cancer biology, and has developed new approaches on DNA methylation detection to accelerate discovery of epigenetic changes. Recently, she also has involved in the successful development of whole genome DNA methylation profiles using single human oocyte which is a pioneered approach in the field.