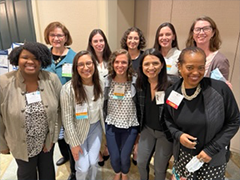 The North Carolina Obstetrical and Gynecological Society (NCOGS) and the North Carolina section of ACOG held their 2022 Annual Meeting from April 8-10 on Kiawah Island, SC. 
Duke Ob/Gyn team member presentations included talks by Maria Small, MD, MPH, speaking on implicit bias in Ob/Gyn; and Pennilee West, MDS, CNM, speaking on preventing perineal lacerations. 
Daniel Clarke-Pearson, MD, former division chief and fellowship director for gynecologic oncology, was presented with the Distinguished Service Award by current division chief Andrew Berchuck, MD.
Additional highlights were impressive poster presentations by Duke School of Medicine students, including first and third place award winners: 
First Place - Elizabeth A. Bloom, BS –  Title: Genomic instability score and tumor mutational burden as biomarkers in uterine serous carcinoma.
Third Place Natalie Wickenheisser, BS – Title: Assessing differences in sequential compression device (SCD) adherence in post-operative patients