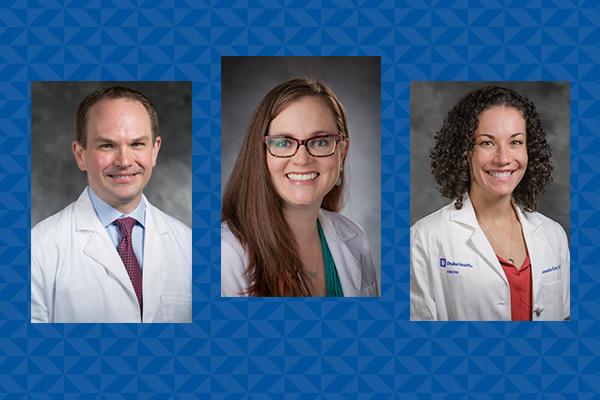 Congratulations to Liz Thomason, MD, MPH, and Sam Bauer, MD, CPE, who have been invited by ABOG to serve as certifying (oral) examiners for the 2023 Specialty Certifying Examination.
Dr. Bauer also has completed the Duke Clinical Leadership Program (DCLP). The DCLP was founded by the Chancellor for Health Affairs in 2010 to help leadership capacity within Duke Health. The program provides faculty with an opportunity to deepen their awareness of health care operations and to develop relevant leadership skills. Program fellows are introduced to and build relationships with leaders from the Duke University Health System, School of Medicine, School of Nursing and Fuqua School of Business as part of the program. 
Cassandra Kisby, MD, MS, graduated from 2023 Leadership Development for Researchers (LEADER) Program. LEADER is designed for junior faculty who are leading a research group and driving their own research agenda. The course provides insight into leadership and team building as well as direction on how to develop and manage a scientific laboratory or research program, how to improve productivity, and how to harness creativity and innovation. The program was developed to bridge the gap between the scientific expertise that led individuals to a career in academic medicine, and the management skills that will be required to succeed as the leaders of small business units.