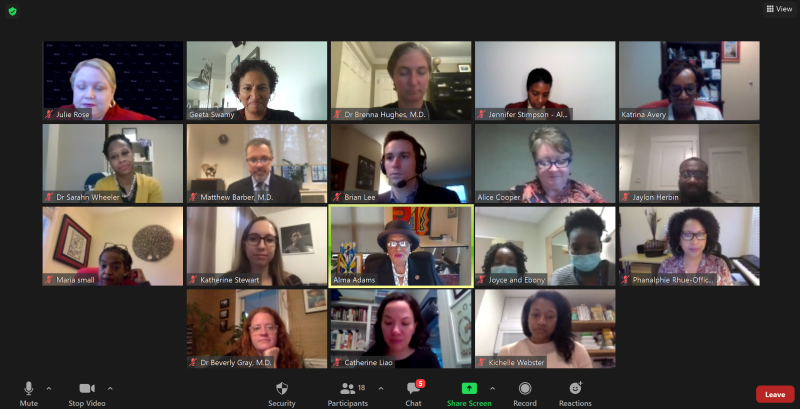 On November 12, 2020, leadership and faculty from Duke Ob/Gyn met virtually with the office of Rep. Alma Adams (D-NC-12) to discuss their clinical work and research to address Black maternal health and to improve health outcomes for pregnant women. Rep. Adams is co-chair and co-founder of the Black Maternal Health Caucus, along with Rep. Lauren Underwood (D-IL-14). Reps. Adams and Underwood also introduced the Black Maternal Health Momnibus Act of 2020 in the House to address preventable maternal mortality and severe maternal morbidity in the United States and close disparities in maternal health outcomes. Current California Democratic Senator and Vice President-elect Kamala Harris has led the companion effort in the Senate.
Black women are three to four times more likely to die from pregnancy-related complications and twice as likely to lose an infant to premature death. Complex reasons contribute to these outcomes, but Duke experts discussed their ongoing commitment to tackle persistent racial inequities in maternal outcomes.
UPDATE: On February 8, 2021, the Momnibus congressional initiative was reintroduced to improve maternal health outcomes in the U.S., particularly among Black mothers, with new proposals included to address the COVID-19 pandemic, climate change and vaccines. The bipartisan caucus, led by Reps. Adams and Underwood, initially unveiled the package in March 2020, but did not advance due to several competing legislative priorities, many relating to COVID-19.
Resource Team: Black Maternal Health Outcomes