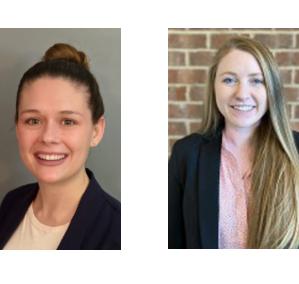 Reproductive Sciences Division Chief Susan Murphy, PhD, serves as Chair of the Steering Committee for the Triangle Consortium for Reproductive Biology's Annual Meeting, which took place on February 26, 2021. The program had 160 registrants from 14 different institutions. Duke Ob/Gyn had three abstract submissions from three graduate students. 
PhD candidate Chrissy Crute (left) received first place (Campion Fund Award - $2,500) for her poster presentation. 
Maternal exposure to an environmentally relevant mixture of per- and polyfluoroalkyl substances (PFAS) leads to adverse pregnancy outcomes in a New Zealand White rabbit model. Chrissy Crute, Samantha Hall, Chelsea Landon, Angela Garner, Susan K. Murphy, Liping Feng
PhD student Dillon King (right) received second place for her oral presentation (TCRB Award - $500)
Sex Differences in Mitochondrial Function: A Role for DNA Methylation. Dillon King, Mackenzie Martinez, Dillon Lloyd, Rachel Maguire, Cathrine Hoyo, Joel N. Meyer, Susan K. Murphy
Additionally, Chrissy Crute, who is co-mentored by Liping Feng, MD, and Susan Murphy, PhD (Reproductive Sciences), was spotlighted as the "Trainee Scientist" in the US Developmental Origins of Health and Disease (DOHaD) Society newsletter. The feature discusses her current work, which is focused on the effects of per- and polyfluoroalkyl substances exposures on pregnancy and fetal health outcomes, specifically evaluating how these exposures disrupt development and function of the placenta. Read more.