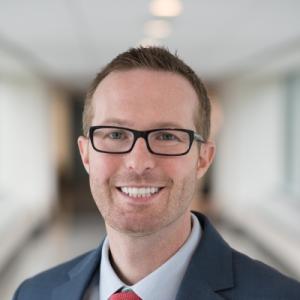 Chief Administrative Officer
Joe English is the chief administrative officer for the Duke Department of Obstetrics and Gynecology. Joe works with divisional and departmental administration to meet the academic, clinical and educational missions of the department. Joe is originally from West Virginia and holds a Bachelor of Science degree in accounting from West Virginia University, as well as Master of Business Administration and Master of Healthcare Administration degrees from Pfeiffer University. Joe was selected as a member of the Duke Management Academy (Cohort 1) and completed the program in 2019. He is also the recipient of the 2019 Michelle P. Winn Inclusive Excellence Award (Staff Award). Additionally, Joe currently serves as the treasurer for the Association of Managers of Gynecology and Obstetrics (AMGO).
Prior to joining Duke, Joe worked in public accounting for Grant Thornton, LLP, providing audit/assurance services to clients in the public, real estate, defense, hospitality and professional sports sectors. Additionally, Joe worked as an internal auditor and financial analysis for a Fortune 500 retailer, The Pantry, Inc. which operated over 1,500 convenience store locations across the southeast. Joe joined Duke in 2011 as a financial analyst in the PDC Finance Department supporting clinical operations and transitioned to the Department of Obstetrics and Gynecology in 2015.