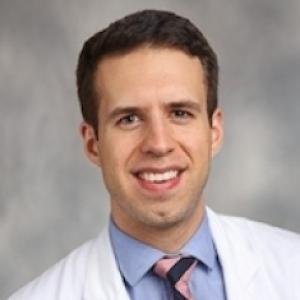 Maternal-Fetal Medicine
Program: 
Start Year: 
2020
Why did you chose Duke for fellowship training?
The culture is committed to mentorship.  We compel one another to work at our highest standards, in a shared sense of promoting the common good for our patients and their families.
What excites you about the residency/fellowship program at Duke OB/GYN?
Servant leadership is expected among the residents and fellows, and I am excited to see where the "Duke process" takes us, individually and collectively.
What are your career interests?
Academic medicine. Who doesn't want to be a lifelong learner?
What are your hobbies?
Hailing from Brooklyn, I once embraced all that was happening in the big city — from concrete pickup games to MoMA. Now, my heartland (from Iowa) wife and our two kids are inevitably making me a budding outdoorsman. I still listen to baseball on the radio. And if our house were on fire, I would run back in to save a collection of books with the title pages signed by authors that I have had the opportunity to meet.
Education & Training
Undergraduate 
Saint Louis University, 2012
Medical School 
Drexel University College of Medicine, 2016
Residency 
Duke University School of Medicine, 2020
Fellowship
MacLean Clinical Ethics Fellowship, University of Chicago, 2022
Awards & Honors
AI SPARK Award for Collaborative Research with Duke Center for AI in Radiology (DAIR), 2021-2022
Josiah C Trent Memorial Foundation Scholarship, 2019-2021.
Education Chief Resident, 2019-2020
Michelle P Winn Inclusion Excellence Award, Nominee 2020
SMFM Resident Award for Excellence, 2020
PDC Strength, Hope, and Caring Award, 2019
Peter Cartwright Humanism Award (Co-Recipient), 2018
Feagin Leadership Program Scholar, 2018
Practice Course Professionalism Award, 2017, 2019
Intern Teaching Award, 2017
Duke SOM Appleseed Award, 2017, Nominee 2018
Maurice C. Clifford Leadership Award, 2016
Golden Apple for Outstanding Service and Teaching, 2016
Gold Humanism Honor Society, 2016
Publications & Presentations 
For an updated list of peer-reviewed publications, visit this link: https://pubmed.ncbi.nlm.nih.gov/?term=Gatta+LA&cauthor_id=28817166
Research Interests
Placenta accreta spectrum, hemorrhage, and clinical/research ethics