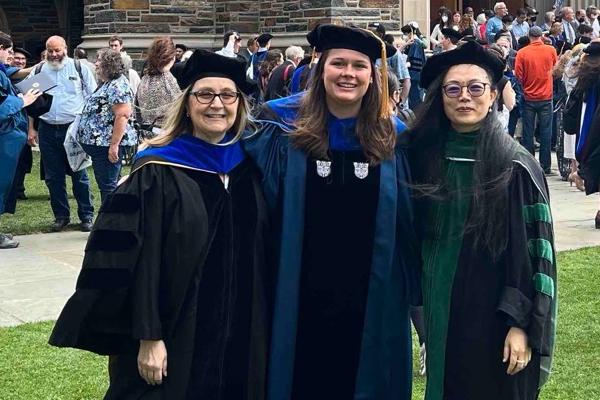 After successfully defending her dissertation on the effects of exposure to the very common environmental contaminants per- and polyfluoroalkyl substances (PFAS) on pregnancy and fetal health outcomes, Duke alumna Chrissy Crute has added PhD to her lengthy list of impactful accomplishments. 
Crute earned her doctorate degree from the Nicholas School of the Environment Integrated Toxicology and Environmental Health Program and officially became a member of the Class of 2022 on May 8. Her work was partially supported by Duke Ob/Gyn, and she was mentored by Susan K. Murphy, PhD, and Liping Feng, MD, in Duke Ob/Gyn's Reproductive Sciences Division. 
Crute has focused her research on evaluating how PFAS exposures disrupt development and function of the placenta and the impact on maternal and fetal health, and her work was spotlighted in the US Developmental Origins of Health and Disease (DOHaD) Society newsletter in 2021. Read more. 
Crute also was the student lead in a Duke Ob/Gyn, Bass Connections collaborative study, "Global Impacts of E-waste Recycling on Maternal-Fetal Health." The team investigated the current and future policy implications of the Chinese governmental waste import ban, including potential policy gaps, and established case studies for teaching at Duke and Duke Kunshan. Researchers performed outreach by helping to educate middle and high school students about e-waste as part of Duke SPLASH, an educational initiative that allows middle school and high school students to participate in small, interactive seminars designed and taught by Duke students. 
Bass Connections is a university-wide academic program that bridges the classroom and the world beyond campus, giving students a chance to work on solutions to complex societal challenges alongside faculty from all of Duke's schools. Named in honor of founding donors Anne and Robert Bass, Bass Connections exemplifies Duke's commitment to team-based interdisciplinary research, as stated on its website. Read more.
Crute's future plans include a six-month Science Corps fellowship in Morocco. During this time, Crute will act as the K-12 Science Coordinator at the American School of Tangier, where her duties include developing curriculum, teaching courses and promoting STEM education and careers. After her fellowship, Crute hopes to return to the Research Triangle and begin a career in biotech, nonprofit or government work where she can improve health outcomes through implementation of evidence-based policies and research.
Pictured: Chrissy Crute, PhD (center) with Duke Ob/Gyn faculty mentors Susan K. Murphy, PhD (left) and Liping Feng, MD (right).