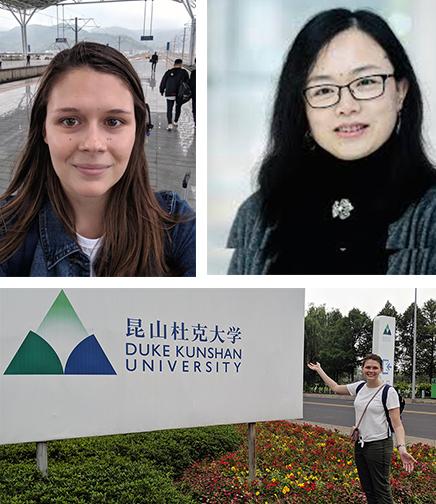 In an effort to address concerns about the global impact on maternal-fetal health of frequently unregulated e-waste — discarded electrical or electronic equipment that contains hazardous constituents such as lead, mercury, chromium, chemicals in plastics and flame retardants — Liping Feng, MD (Associate Professor in the Duke Ob/Gyn Division of Reproductive Sciences) initiated and led a program to study and evaluate this issue with her colleagues and student lead, Chrissy Crute, graduate student and PhD candidate in the Nicholas School of the Environment Integrated Toxicology and Environmental Health Program. Crute's work is partially supported by Duke Ob/Gyn. The project is titled The Global Impacts of E-waste Exposure and E-waste Recycling Policy on Maternal and Fetal Health.
Through Bass Connections, a team traveled to China in May 2019 to collect exposure data through in the general populations at an e-waste recycling site. Data collection was done by utilizing silicon wrist bands. The team also collected community survey data to understand public knowledge and opinion regarding e-waste recycling. Between the fall 2019 and spring 2020 academic year, that Bass Connections team evaluated exposure data from umbilical cord blood samples to better understand  e-waste contaminant exposure levels among children born in these environments. Bass Connection students also examined the effects of e-waste compounds on placental cells and potential subsequent pregnancy complications. Furthermore, the team investigated the current and future policy implications of the Chinese governmental waste import ban, including potential policy gaps, and established case studies for teaching at Duke and Duke Kunshan. Finally, they performed outreach by helping to educate middle and high school students about e-waste as part of Duke SPLASH.
About the project…
The Global Impacts of E-waste Exposure and E-waste Recycling Policy on Maternal and Fetal Health project, as noted on the Bass Connections website, addressed the increasing concern about health effects related to contamination in air, soil and water for people working and living at or near informal e-waste processing sites, especially the most vulnerable populations: pregnant women and children. The rapidly increasing amount of e-waste and environmental policy changes make protecting human health and the environment from e-waste contamination an expanding challenge.
Team outputs relating to maternal-fetal health were among the findings:
Impacts of E-waste Exposure on Maternal and Fetal Health (poster by Ashley Choi, Nadrat Chowdhury, Christine Crute, Ellea Lamb, Julia Murphy, Angela Pham, Aneesha Raj, Yan Sun, Connie Xiong, Amy Zhao, Liping Feng)
In the recent Bass Connections e-Newsletter, Megan Huchko, MD, MPH, Associate Professor in the Department of Ob/Gyn and the Duke Global Health Institute noted, "Bass Connections has been a really nice way to make connections with students on a one-on-one basis and do more in-depth research with them individually, both throughout the time of the project team and also going forward."
Bass Connections is a university-wide academic program that bridges the classroom and the world beyond campus, giving students a chance to work on solutions to complex societal challenges alongside faculty from all of Duke's schools. Named in honor of founding donors Anne and Robert Bass, Bass Connections exemplifies Duke's commitment to team-based interdisciplinary research, as stated on its website.
Source: Bass Connections