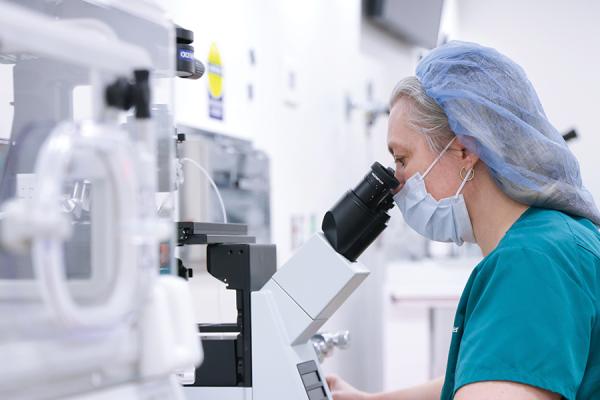 By Eric Seaborg, Duke Health Clinical Practice Today
Assisted reproductive technologies designed to counter potential fertility losses among cancer patients offer many new and innovative options, but only a minority of patients who might benefit take advantage of them.
The Duke Fertility Preservation Program is working to increase awareness of these options through greater outreach to both patients and potential referring providers, according to program director Kelly Acharya, MD. Dr. Acharya wants to communicate with more patients because evidence shows that just hearing about one's care options eases a patient's later regrets, whether or not the patient takes advantage of them.
As part of this outreach, the Duke Onco-Fertility Program brought on a patient navigator, Jackie Balliot, BSN, RN, OCN, with the Duke Cancer Institute Supportive Care and Survivorship Center. The goal is to help lower the barriers to access to care and increase awareness of fertility preservation innovations that often surprise both patients and providers.
"The patient navigator is a bridge between the patients and the providers, coordinating multiple aspects of that patient's care. The navigator provides a centralized point of contact, which makes it easier for the oncology providers to refer patients," Dr. Acharya said.
Learning of a cancer diagnosis can be overwhelming to a patient, and avoiding any delays in treatment can be critical. Patients need to be seen quickly and told of their options. "We're committed to seeing patients within 48 hours of referral. We can get people in quickly and make the process as easy as possible," Dr. Acharya said.
One way to streamline the process is via telemedicine appointments, which many newly diagnosed cancer patients — bewildered by the number of medical appointments — find particularly helpful. For males who want to keep their future options open, sperm cryopreservation is straightforward. It can be done in a day, with frozen sperm remaining viable for years or even decades.
For females, the time frame needed to obtain eggs or embryos for preservation has been considerably compressed in recent years. "We used to think that oocyte preservation could delay somebody's chemotherapy for a month or more. But we have learned that it generally takes about two weeks to get eggs to grow so we can extract and freeze them," Dr. Acharya said.
For some patients even a two-week delay before starting cancer treatment is too much, and another option has come on the horizon for them. "Within the next year, we hope to bring ovarian tissue cryopreservation to Duke," Dr. Acharya said. "This is surgery that we can perform on an emergency basis to remove an ovary and then freeze the tissue. A patient could get started on radiation or chemotherapy the next day if they needed to." After the patient's cancer treatment is completed, the ovary or ovarian tissue can be transplanted back into the patient to produce eggs.
"The American Society for Reproductive Medicine now considers this the standard of care for people who don't have other options, but it's not offered anywhere in North Carolina yet. We're trying to bring it to Duke this year," Dr. Acharya said.
The patient navigator can help with another challenging aspect, as well. Assisted reproductive technology is expensive and may not be covered by a patient's insurance. The navigator's expertise includes knowing what insurance covers and sometimes recommending creative ways to help the patient financially, including through charity care.
Dr. Acharya said this is one more reason for providers to have a "low threshold for referring patients to us. We're happy to see people who providers might not even think are eligible, like children or preteens who have not gone through puberty yet. Our goal is not to increase fertility preservation rates per se, but rather to empower patients and their families to make informed fertility preservation decisions."
---