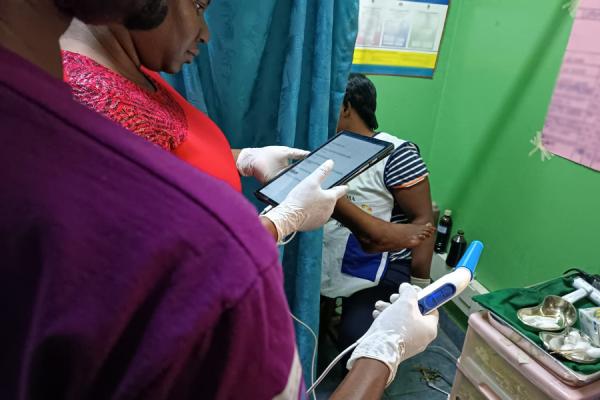 Megan Huchko, MD, MPH, Hollier Family Associate Professor of Global Health and Ob/Gyn, is co-primary investigator with the Center for Global Women's Health Technologies Director Nimmi Ramanujam, PhD, on a new $3 million award to explore technologies to improve cervical cancer screening in low-resource settings.
The award is through a Research Project Cooperative Agreement (U01) from the National Cancer Institute within the National Institutes of Health. The project began in May 2022 and continues through April 20, 2027; it will support the further development and clinical translation of a diagnostic algorithm GWHT has been developing, referred to as Colposcopy Aided Risk Evaluation (CARE).
When coupled with diagnostic tools like the pocket colposcope, CARE will enable rapid diagnosis of precancerous and cancerous lesions. Funding will support GWHT's ongoing work to reduce the burden of cervical cancer by bringing new technologies, such as HPV self-sampling, pocket colposcopy, thermal ablation and decision-making algorithms to community-based clinics.
"This grant will enable us to look at both the technology and implementation strategies that will allow more accurate and lower cost cervical cancer screening to reach millions of women living in low- and middle-income settings. To reach the World Health Organization elimination targets, these must be done hand in hand," said Dr. Huchko.
Learn more about the grant awarded to Duke's Center for Global Women's Health Technologies.
Photo credit: Duke Center for Global Women's Health Technologies
---