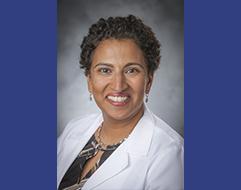 Geeta Swamy, MD, who in addition to her position as professor in Ob/Gyn serves as Associate Vice President for Research and Vice Dean for Scientific Integrity (in the Office of Scientific Integrity), is a 2021-22 Duke Presidential Award winner. She and other recipients were recognized as "prime examples of the dedication, resilience and creativity that allowed Duke University and Duke University Health System to continue to teach, discover, heal, learn and serve during an especially trying time."
The March 29 edition of Duke Today noted: "It takes a good leader to lead these teams as they were, but it takes a great leader to lead through change, coordinate bringing groups together for an inclusive, effective collaboration in an environment as decentralized as Duke," said Mary E. Klotman, dean of the Duke School of Medicine. "Geeta is both assertive and empowering at the same time, allowing her to communicate across cultural lines, which is a critical skill set for success in managing these efforts at Duke."
In 2021, Dr. Swamy assumed leadership of the Research Administration Continuous Improvement Committee and the School of Medicine Offices of Research Administration and Research Contracts. In the time since, colleagues have credited her with leading the roll out of new research policies and procedures, always with an eye toward improvement and excellence at Duke University and the School of Medicine, the article stated. Read more.