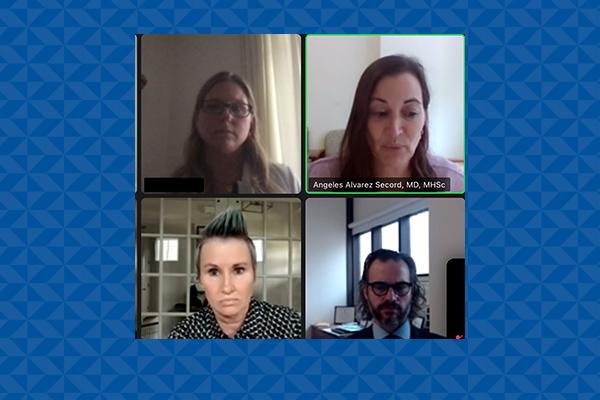 The Society of Gynecologic Oncology (SGO), in collaboration with the bipartisan U.S. House Cancer Caucus, held a briefing about the ongoing chemotherapy drug shortages on June 6.
The briefing, moderated by SGO President Angeles Alvarez Secord, MD, MHSc, covered the scope of the current chemotherapy shortages, the impact on patients and their treatments, the patient perspective and potential policy solutions. Dr. Secord is a professor gynecologic oncology in the Duke University School of Medicine Department of Obstetrics & Gynecology, and a member of the Duke Cancer Institute, where she serves as director of gynecologic oncology clinical trials.
Panelists included:
Toni Dezomits, patient with stage 4 ovarian cancer

Laura Bray, chief change maker at Angels for Change

Stephen Colvill, research associate at the Duke-Margolis Health Policy Center and executive director and co-founder of RISCS, Inc.
Dezomits, who noted she spent 35 years in uniform as both a soldier in the Persian Gulf, and in law enforcement — including as the former police chief of Cary, North Carolina — expressed how no doctor should have to make the kinds of decisions that they are being forced to with the current carboplatin shortage. She recounted how patients are at times in the "chemo chair" when they are informed that they are not going to be receiving their treatment due to the supply chain issues.
Former business executive Bray, who now serves as chief change maker of Angels for Change, shared telling stories of how her young daughter, as a 9-year-old cancer patient, was traumatized when faced with the reality that her lifesaving medication was not available during a prior chemotherapy shortage. Using her business acumen to navigate through supply chain issues and then to a start the only patient advocacy organization in the country to work toward ending drug shortages, Bray reiterated the sentiments that no patient should be faced with the burden of knowing their survival is jeopardized by availability of essential, lifesaving drugs.
Colvill spoke to how successful, reliable processes of having necessary treatments available requires the four things: adequate staff, stuff, space and systems. If not in sync, issues such as today's carboplatin shortage will occur.
Through research with the Duke and RISCS, Inc., root causes of drug shortages and recommendations for Congress to prevent them in the future are priorities. In summary, he stated that there is not enough resilience in the supply chain.
U.S. Rep. and Co-chair of the bipartisan House Cancer Caucus Brian Higgins shared his interest in expediting these efforts, similar to how development of mRNA vaccine was prioritized during the global COVID-19 pandemic. He was joined by caucus co-chair, U.S. Rep. Derek Kilmer.
A question/answer forum followed the briefing.