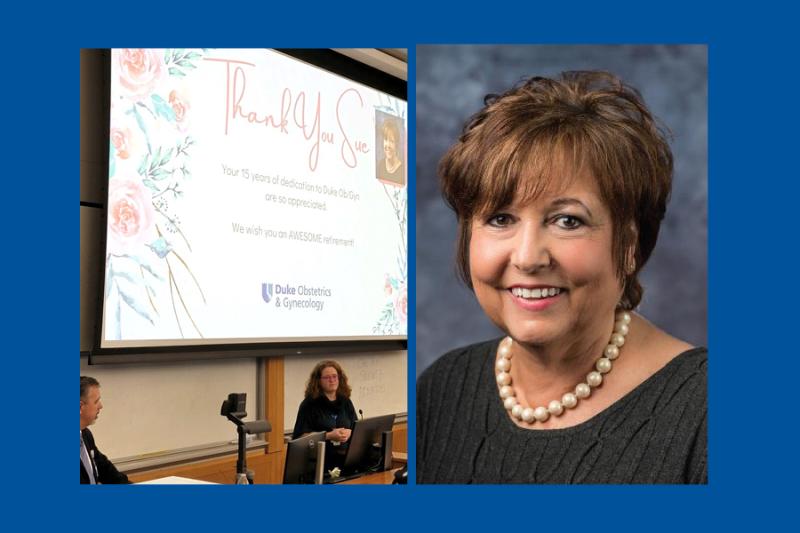 Allender served in her role at Duke for 15 years
Graduate Medical Education Coordinator Sue Allender will retire on Friday, January 6, after 15 years of service to the trainees of Duke Ob/Gyn.
We are so grateful for her dedication and compassion, and we wish her a happy and healthy retirement.
Read below for some of our trainees' messages of love and support for Sue:
Sue, you are the heart of this program. You have always been so warm and welcoming to me (and all the residents!). We can always count on you to know exactly what we need, answering frantic late-night emails within minutes. You will be missed dearly!
 
Sue, you're an angel. It's hard to imagine this residency without you because you've been such an integral part of our program. Infinite gratitude for all your patience, hard work and kindness. Also a million more thank yous for the many work hours you input for me. You're too good for us. Enjoy retirement! 
 
Sue, I so appreciate how welcomed you made me feel when I started at Duke. Your extensive knowledge of the department's history and pride for its graduates came through immediately, and made me even more excited to call this place home. The department will not feel the same without you! 
 
Woe is me, but great is Sue! She's kind, familiar and creates a calm when you create the storm. Her presence will be missed. It was one of the best gifts that Duke could offer. 
 
Over phone and email, you helped me move to the Triangle, and on my very first day on Duke's campus, you met me outside of Baker House with a warm smile and a welcome. And on each occasion since, you always share that same warmth. Thank you for always being there and for being you!
 
Sue, how can I begin to thank you for the innumerable ways you have helped, enriched and globally made better my residency experience over the last four years? Even before my residency interview, you became a familiar name and source of guidance. You have made every step of this process smoother and easier for every resident you have worked with, and it's plainly apparent how much you care about us each individually. I'm so thankful for your patience, impeccable work ethic and most importantly your friendship. You will be sorely missed, but we are so excited for you!
 
Sue — from the moment I first matched at Duke, you have helped make Duke and Durham feel more like home. You provided such a warm welcome, which eased my worries about starting residency and making a big cross-country move. You always have the answer to everything and have helped me navigate so many new experiences in residency. You will always be a part of our program and will be greatly missed.