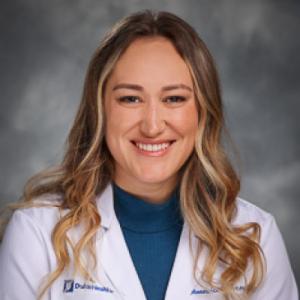 Gynecologic Oncology
Program: 
Start Year: 
2021
Why did you choose Duke for your fellowship training?
I felt a strong sense of community and collegiality at Duke (even through Zoom!). I was impressed by the support for fellow research and diversity of faculty research interests. Mentorship was emphasized by all of the faculty, and this was clearly supported by a track record of interesting and impactful work from previous fellows. I also appreciated the mix of laparoscopy and robotics and the thoughtful and intentional approach to fellow education during the clinical years.
What excites you about the fellowship program at Duke Obstetrics and Gynecology?
I am looking forward to learning from all the faculty and residents, working on my teaching (particularly in the OR), and refining my research skills and interests. 
What are your career goals?
I would like to become an academic gynecologic oncologist. The long term and meaningful relationships with patients and their families that form in the clinical setting are what I enjoy most about gyn oncology, but the ability to mix in a love for science and teaching in academics creates a nice variety that I hope will always keep me on my toes!
What are your hobbies?
Spending time with my family, hiking, grilling, Orange Theory, reality TV, home projects and decorating. 
Education & Training
Undergraduate
Washington University, St. Louis, 2013
Medical School
The University of Chicago Pritzker School of Medicine, 2017
Residency
University of California, San Francisco (UCSF), 2021
Awards & Honors
AstraZeneca Young Investigator Stimulus for Ovarian Cancer Research  from the Foundation for Women's Cancer
UNC-Duke Immunotherapy Training Program (National Cancer Institute T32) Grant Recipient
UCSF (2020) -Society of Gynecologic Oncology (SGO) Outstanding Resident in Gynecologic Oncology
University of California San Francisco (2020) -Outstanding Resident Teaching Award from Third Year Medical Students
University of Chicago (2017) -The Joseph A. Capps Award for Outstanding Proficiency in Clinical Medicine
University of Chicago (2017) -Class of 2017 Obstetrics and Gynecology Departmental Award for Excellence
University of Chicago (2017) -Alpha Omega Alpha Honor Society
University of Chicago (2017) -Gold Humanism Honor Society, University of Chicago (2017)
Publications & Presentations
Bejar FG, Oaknin A, Williamson C, Mayadev J, Peters PN, Secord AA et al. Novel Therapies in Gynecologic Cancer. American Society of Clinical Oncology Educational Book. 2022;42:1-17.
Arya R, Hong D, Schultz O, Jutzy JM, Cotangco K, Peters PN, et al. Opioid Use in Patients With Cervical Cancer at Two Urban Medical Centers. Advances in Radiation Oncology. 2022;7(2):100833.
Arya R, Giurcanu M, Jutzy JM, Peters PN, Daily EW, Golden DW, et al. Local Control and Use of External Beam Parametrial Boost in the Era of Image-Guided Brachytherapy for Locally Advanced Cervical Cancer. American Journal of Clinical Oncology. 2021;44(11):565-71.
Craig AD, Garcia E, Peters PN, Chen LM, Chapman JS. Primary treatment of advanced ovarian cancer: how does the 'real world' practice? Future Oncology. 2021;17(34):4687-96.
Peters PN, Pierson WE, Chen LM, Westphalen AC, Chapman JS, Hsu I. PET-detected asymptomatic recurrence is associated with improved survival in recurrent cervical cancer. Abdominal Radiology. 2021;46(1):341-50.
Pierson WE, Peters PN, Chang MT, Chen L, Quigley D, Asthworth A, et al. An integrated molecular profile of endometrioid ovarian cancer. Gynecologic Oncology. 2020; 157(1):55-61.
Chryplewicz A, Tienda SM, Nahotko DA, Peters PN, Lengyel E, Eckert MA. Mutant p53 regulates LPA signaling through lysophosphatidic acid phosphatase type 6. Scientific Reports. 2019;9(1):1-10.
Hoppenot C, Peters PN, Cowan M, Diaz Moore E, Hurteau J, Lee NK, et al. Malignant bowel obstruction due to uterine or ovarian cancer: Are there differences in outcome? Gynecologic Oncology. 2019;154(1):177-82.
Shahin MN, Magill ST, Dalle Ore CL, Viner JA, Peters PN, Solomon DA, et al. Fertility treatment is associated with multiple meningiomas and younger age at diagnosis. Journal of neuro-oncology. 2019;143(1):137-44.
Theophanous C, Peters PN, O'Brien P, Cousineau M. What do medical students think about health-care policy education? Education for Health. 2018;31(1):54-5.
Peters PN, Schryver EM, Lengyel E, Kenny H. Modeling the early steps of ovarian cancer dissemination in an organotypic culture of the human peritoneal cavity. JoVE (Journal of Visualized Experiments). 2015(106):e53541.
Research Interests
Overcoming resistance to immunotherapy, ovarian cancer molecular and genetic characteristics, translational research and clinical trials, optimization of end of life care, understanding needs of gynecologic cancer caregivers and survivors