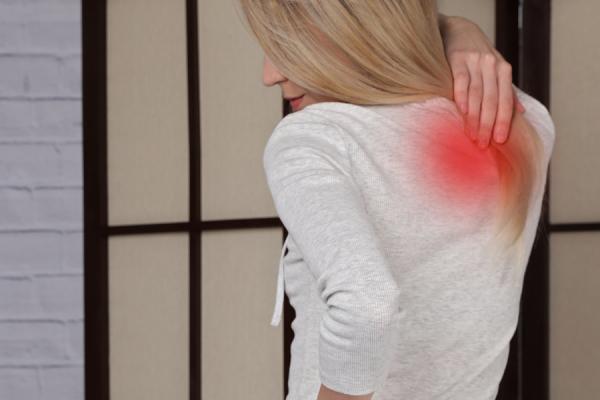 Preliminary study finds use of hormone replacement therapy might reduce risk of a painful shoulder condition called adhesive capsulitis
By Sarah Avery, Duke Health News Office
Post-menopausal women on hormone replacement therapy had a lower risk of developing a painful shoulder condition known as adhesive capsulitis compared to women who did not receive estrogen, according to a study led by Duke Health researchers.
The study — a collaboration between the Duke Departments of Orthopedics and Obstetrics and Gynecology — was presented Oct. 12, 2022, at the meeting of the North American Menopause Society meeting in Atlanta.
"Estrogen plays a role in stimulating bone growth, reducing inflammation, and promoting connective tissue integrity," noted Jocelyn Wittstein, MD, associate professor in Duke's Department of Orthopaedic Surgery. "Not using systemic hormone therapy was associated with a higher risk of adhesive capsulitis in our retrospective cohort study."
This retrospective cohort study analyzed medical records of nearly 2,000 post-menopausal women between the ages of 45 and 60 and who presented with shoulder pain, stiffness and adhesive capsulitis.
Among the women in the study, only 3.95% of those who had received hormone replacement therapy were diagnosed with the shoulder condition, compared to 7.65% of women who had not received estrogen replacement. The differences were not statistically significant, likely due to the sample size, but the researchers said the findings should drive further investigation.
"Given that older women are most commonly affected by adhesive capsulitis, there may be a connection between the loss of estrogen in menopause and this painful shoulder condition," said Anne Ford, MD, associate professor in the Department of Obstetrics and Gynecology at Duke University School of Medicine.
In addition to Wittstein and Ford, study authors include Eliana B. Saltzman, Emily K. Reinke, Elizabeth P. Wahl, June Kennedy, Emily Poehlein and Cindy Green.
---