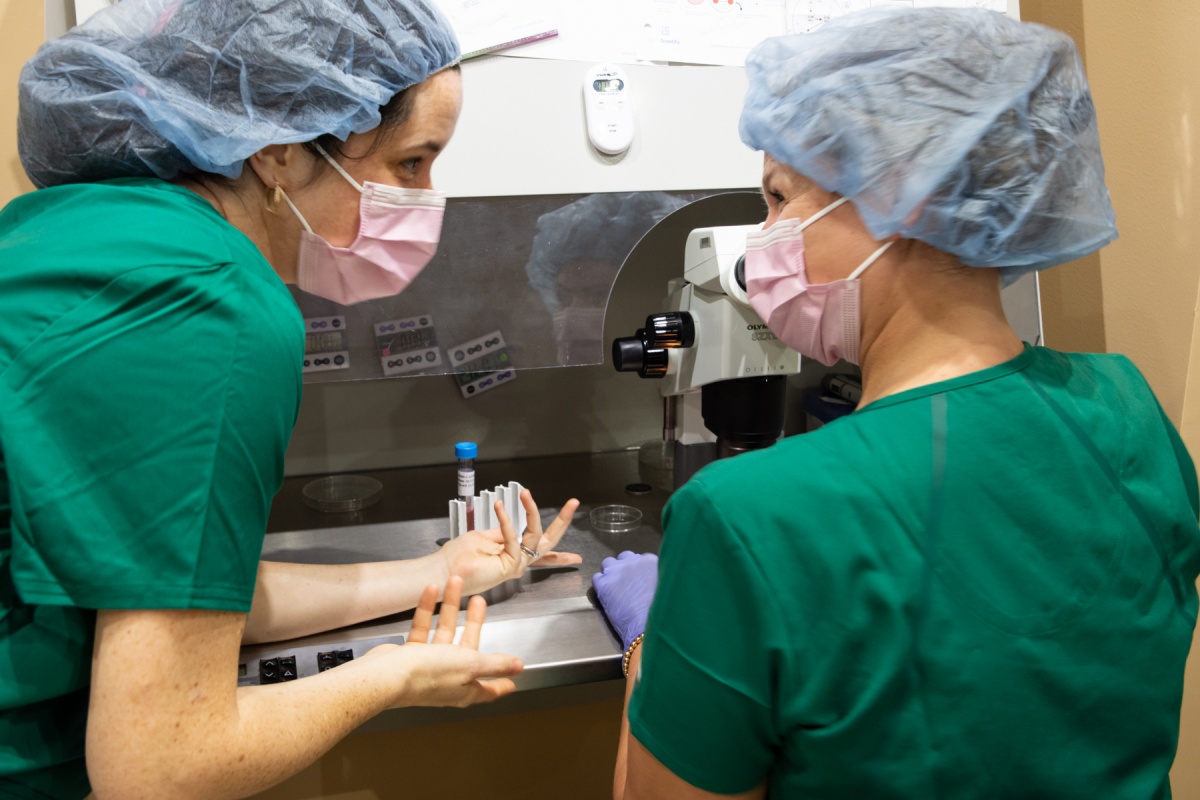 BY FRANCES ROGERS DUKE UNIVERSITY HOSPITAL COMMUNICATIONS
A cancer diagnosis brings with it a flood of emotions – sometimes one at a time, often all at once. A patient's initial questions relate to their type of cancer, course of treatment and most importantly, the likelihood of survival.
What may not immediately come to mind is the possible effect the cancer and its treatment could have on the patient's future ability to have children. Just 20 years ago, this was rarely considered. Compared to now, cancer survival rates were lower, and the technology to preserve future fertility was not readily available.
The emerging field of onco-fertility brings together oncology and reproductive endocrinology specialties to maximize the reproductive potential of cancer patients and survivors. Therapies involve procedures performed prior to the beginning of cancer treatment in an effort to preserve options for both men and women related to future conception and completion of a successful pregnancy.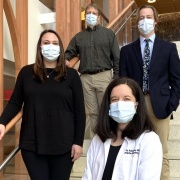 A novel collaboration between the Duke Cancer Institute's (DCI) Supportive Care & Survivorship Center and the Duke Fertility Center connects cancer patients to a multidisciplinary a team of oncologists, fertility specialists and psychosocial providers. The Duke Onco-Fertility Program facilitates rapid referral to fertility counseling – within 48 hours of a patient's first oncology appointment – to ensure there is no delay in beginning cancer treatment for patients who are interested in proceeding with fertility preservation. Reproductive endocrinology and infertility specialist Kelly Acharya, MD, serves as director of Fertility Preservation at Duke.
While Duke has provided onco-fertility preservation services on an ad hoc basis for years, the official Duke Onco-Fertility Program was born out of work by a special steering committee launched in the summer of 2019 by the Supportive Care & Survivorship Center. The center's co-director, Cheyenne Corbett, PhD, identified the gap in care for patients and led this 40-person committee, spanning eight disciplines, to develop a comprehensive program that addresses the unique fertility concerns of this population and eliminate barriers that might conflict with the time-sensitive nature of their cancer treatment.
An early outcome of the onco-fertility steering committee was the creation of a patient navigator role. This dedicated resource is vital to coordinating the patient's referral process between DCI and the fertility specialist at the Duke Fertility Center. The navigator also works closely with patients and their families to provide education and support and to address potential barriers to fertility preservation, such as helping patients apply for any relevant grants or philanthropic funds to mitigate costs. The navigator's ultimate goal is to ensure that patients have the information they need to make an informed decision about whether to move forward with fertility preservation therapies.
Coleman Mills, MA, CCRP, is the manager for the DCI Teen & Young Adult Oncology (TYAO) Program that provides cancer patients ages 15 to 29 and their families with support throughout a cancer diagnosis, treatment and survivorship. He also manages the Duke Onco-Fertility Program.
During fiscal year 2019-2020, 60 patients were referred to the program. From February 2020 – when the first patient navigator was hired – to December 2021, that number more than tripled, with 192 referrals. More than 60% of those patients – an impressive 106 – have gone through the process of fertility preservation. This rate is much higher than the national average, and Mills credits the coordinated efforts of the Onco-Fertility Program team, and the individualized education and support provided by the patient navigator.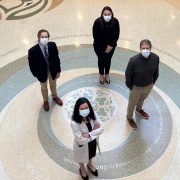 "Receiving a cancer diagnosis is scary and overwhelming," said Mills. "Having that open conversation with someone who can provide education and resources about fertility preservation opens it up to many patients who would have otherwise never known that it was even a possibility."
As a clinical psychologist with the Department of Psychiatry and Behavioral Sciences at Duke and co-leader of the Duke Onco-Fertility Program, Caroline Dorfman, PhD, is well aware of significant gaps that have historically existed between clinical care and fertility preservation for cancer patients. Despite advances in assisted reproductive technology, the overall number of cancer patients throughout the United States who proceed with fertility preservation fall well behind those at Duke. A variety of barriers exist, including a lack of understanding by the patient, limited provider referrals, socio-economic factors and more.
"A cancer diagnosis can stop you in your tracks and make it seem that you are missing milestones that those around you are achieving, including having children," Dr. Dorfman said. "Partnering with our patient navigator to learn about potential options may help them work toward an important goal of having children or dealing with the decision to not move forward in a healthy way."
During fiscal year 2019-2020, 60 patients were referred to the program. From February 2020 – when the first patient navigator was hired – to December 2021, that number more than tripled, with 192 referrals. More than 60% of those patients – an impressive 106 – have gone through the process of fertility preservation.
An October 2021 article in the Journal of Oncology Navigation and Survivorship co-authored by Mills, Drs. Corbett, Dorfman and Acharya and others details the vital role of the patient navigator to patient support and the sustainability of an onco-fertility program.
In addition to the traditional onco-fertility options including the freezing of sperm, eggs or embryos, more advances are on the horizon. Cryopreservation of ovarian tissue is a promising therapy, especially for prepubescent females and women whose cancer treatment is more time-sensitive and not conducive to the typical wait period of two weeks required for egg or embryo harvesting.
Machine-learning based fertility risk calculator
Dr. Acharya is part of a team that developed a machine-learning based fertility risk calculator. Through a study of past Duke fertility patients, the tool has been validated to provide a more accurate prediction of premature menopause and infertility following cancer treatment. Details are available in a September 2021 article published in the Journal of Assisted Reproduction and Genetics.
The calculator uses factors such as the patient's type of cancer and planned course of treatment, as well as age and other lifestyle factors, to assign a score that may help patients make decisions regarding fertility preservation.
As Dr. Acharya explains, "The goal of our program is not to see how many patients go through preservation, but to make sure we provide them with the resources they need to make what may be one of the most important decisions of their lives."
Pictured (top photo, clockwise from left): Caroline Dorfman, PhD; Duke Fertility Center Laboratory Director Douglas Raburn, PhD, HCLD; Coleman Mills, MA, CCRP; and Kelly Acharya, MD.
Learn more: Addressing Barriers to Fertility Preservation for Cancer Patients
Learn more: Development of a Fertility Risk Calculator
Egg Cryopreservation, IVF — and a Family!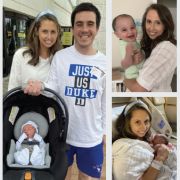 Sasha Zarzour, Development Director at Caring House, a Durham-based extended stay facility for outpatients being treated at Duke Cancer Center, is a two-time survivor of Hodgkin's Lymphoma. Sasha went through successful egg cryopreservation and IVF at the Duke Fertility Center in 2019. Son Bobby (top right) was born at Duke Regional Hospital in May 2020. After thinking she would be unable to have more children, Henry – her "surprise child" – was born in October 2021.
"I had a great experience and am so grateful for the team at the Duke Fertility Center," says Zarzour. "They knew how much my husband Billy and I wanted to have children, and they were willing to do whatever they could to make that a reality. The best thing is that they were thinking about my entire life – not just my cancer.