Duke researchers honored with Best Overall Paper at 2021 AUGS Meeting
The work of Duke urogynecologists Nazema Siddiqui, MD, MHSc, and Cindy Amundsen, MD, and reproductive sciences expert Susan K. Murphy, PhD, (pictured, left to right) was awarded Best Overall Paper at the 2021 American Urogynecologic Society Annual Meeting during Pelvic Floor Disorders Week. The winning paper is titled "UUI-IR: distinguishing a subtype of urgency urinary incontinence based on molecular profiling."
Urgency urinary incontinence (UUI) is a severe manifestation of "overactive bladder." UUI impairs a woman's quality of life by producing sudden urges to urinate that cannot easily be controlled.
This results in bladder accidents, sometimes of large volume, that are often unpredictable and therefore cause significant distress. Urogynecologists know that UUI becomes more common with each decade of life after age 40. However, they are also gaining more knowledge about strong associations between UUI, diabetes and pre-diabetes.
Diabetes and pre-diabetes are conditions defined by insulin resistance (IR). This study tested the hypothesis that women with UUI and insulin resistance (UUI-IR) have altered DNA methylation of bladder urothelial genes involved in sensory nerve signaling. If methylation changes actually have a functional effect, then one would expect there to be analogous changes in the messenger RNA (mRNA) of the gene involved.
In performing this study, researchers were trying to understand if UUI-IR might be a different subgroup, with a different molecular profile, than other UUI.
They found evidence for different molecular profiles in women with UUI-IR. Since women with UUI-IR are a substantial proportion of those suffering with UUI, this new information may have implications for future treatment strategies.
Additional authors were Gabrielle McNary, MD; student Kathy Lu; and bioinformatician Joseph A. Prinz.
---
Study shows that shows marijuana smoking abstinence could lower effects of cannabis on sperm
While marijuana use may impact some genes linked to autism in men's sperm, abstaining from cannabis consumption over time may significantly lower many of those effects, according to a study by Duke Health researchers. Study authors from Duke Ob/Gyn are Susan K. Murphy, PhD; Douglas Raburn, PhD, HCLD; Thomas Price, MD; and students Rose Schrott, PhD, and Dillon King.
This study, appearing online in Environmental Epigenetics in September 2021, followed other studies at Duke that linked cannabis use to alterations in the epigenetic information present in sperm, including genes important for early development. Epigenetic changes can affect the activity of genes without changing the information of the genes themselves.
This study aimed to learn whether those epigenetic changes could be diminished in some form with cannabis abstinence. The results showed marijuana users who stopped using cannabis for 77 days produced sperm that no longer showed the majority of the significant changes that were present when the men were actively using cannabis.
— Duke Health News Office
Learn more: Smoking Abstinence Could Lower Effects of Cannabis on Sperm
---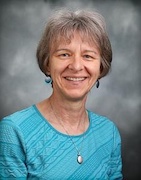 Friederike Jayes, DVM, PhD, receives Duke/NCCU Collaborative Translational Research Award
A collaborative research team supported by the Duke Clinical and Translational Science Institute has secured follow-on funding from the North Carolina Biotechnology Center for work in drug delivery.
The project, "Engineering smart injectable drug delivery theranostics for uterine fibroids," is led by Friederike Jayes, DVM, PhD, as the Duke Principal Investigator on the project, and Darlene Taylor, PhD, as the NCCU PI. The team's funding advanced research on a hydrogel for controlled release of drugs used in uterine fibroid therapy. The Duke CTSI is the academic home of the National Institutes of Health's Clinical and Translational Science Awards pilot funding programs at Duke University.
---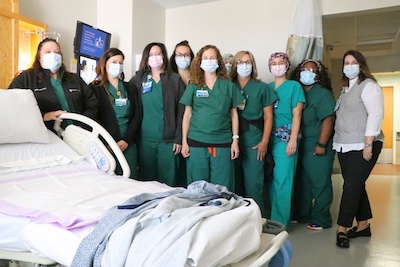 Duke Regional team focuses onimproving patient care for all
Members of Duke Regional Hospital's Labor and Delivery Unit have undergone a training to better care for patients who identify as transgender or gender non-conforming. "Obstetrics is inherently gendered. We're known as the Women's Service Line," said Nurse Manager Heather Talley, MSN, RNC-OB, C-EFM, CNML. "We needed this training so that patients didn't feel like they needed to teach us before we could provide them care." Tools have been created to offer more informed care.
Learn more: Duke Regional Team Focuses on Improving Patient Care for All (full article)
---
National Honors

Pictured left to right: Jeffrey Kuller, MD; Megan Huchko, MD, MPH; Matthew D. Barber, MD, MHS; Brenna Hughes, Md, MSc; and Samuel Bauer, MD, CPE
Maternal-fetal medicine specialist Jeffrey Kuller, MD, has been appointed to the Board of Directors for the Foundation for the Society for Maternal-Fetal Medicine. Dr. Kuller's three-year term began February 2022.
---
Megan Huchko, MD, MPH, has been accepted as an Active Fellow of the American Gynecological and Obstetrical Society. Dr. Huchko will be officially introduced as a Fellow at the AGOS Annual Meeting in fall of 2022.
In addition to this honor, Dr. Huchko, faculty in Duke Ob/Gyn and the Duke Global Health Institute who directs the Duke Center for Global Reproductive Health, recently was named the first appointee of the Hollier Family Global Health Professorship in Maternal and Child Health.
"I am thrilled and humbled that the Holliers have chosen to support Duke and my work with this award," Dr. Huchko said. "Their commitment to Duke and global maternal child health will allow us to continue the research and teaching in this area, in partnership with our African colleagues. I am very excited about the wealth of new opportunities this will provide for Duke students and researchers over the years."
---
Matthew D. Barber, MD, MHS, was appointed as the new subspecialty female pelvic medicine and reconstructive surgery division chair for The American Board of Obstetrics and Gynecology. He will also serve as an ex-officio subspecialty representative on the Executive Committee of the ABOG Board of Directors.
---
"Developing Treatment Guidelines During a Pandemic Health Crisis: Lessons Learned From COVID-19 (Special Article)" has been published in The Annals of Internal Medicine, the result of a collective effort by maternal-fetal medicine specialist Brenna Hughes, MD, MSc, and colleagues on the National Institutes of Health COVID-19 Treatments Guidelines Panel. Susanna Naggie, MD, MHS, Vice Dean for Clinical Research and Associate Professor of Medicine at Duke, was also a Panel member.
---
Maternal-fetal medicine specialist Samuel Bauer, MD, CPE, has been appointed to represent the Society for Maternal-Fetal Medicine on the Core Quality Measures Collaborative, the partnership between American's Health Insurance Plans and the Centers for Medicare and Medicaid Services.
CQMC, which is housed at the National Quality Forum, is comprised of over 70 member organizations and maintains the existing core measure sets.