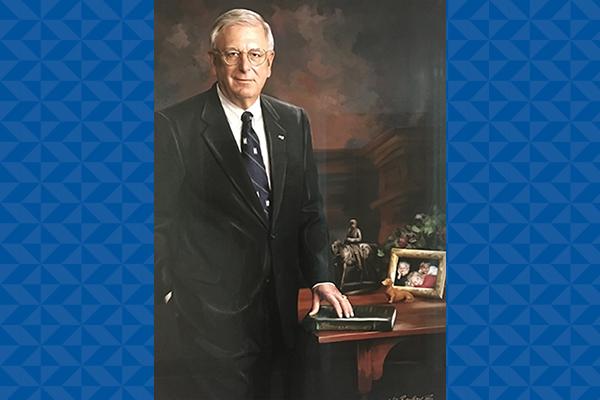 With great sadness, the Department of Ob/Gyn announced that Charles B. Hammond, MD, FACOG, FRCOG, died on Monday, February 1, 2021.
Dr. Hammond was the Edwin Crowell Hamblen Distinguished Professor of Reproductive Biology and Family Planning and Chair of the Department of Obstetrics & Gynecology from 1980 to 2002. He received his medical degree from Duke University in 1961. During the next nine years, he completed an internship in surgery, a residency in obstetrics and gynecology, a one-year training interval in the research training program, all at Duke, and two years as a clinical associate in the endocrinology branch at the National Cancer Institute in Bethesda, Maryland.
Dr. Hammond transitioned into an educator role at Duke University in 1969, when he accepted a position as an assistant professor in the Department of Obstetrics and Gynecology. In 1973, he was promoted to associate professor, and in 1978, he assumed the role of professor. In 2010, Dr. Hammond was recognized as the E.C. Hamblen Professor Emeritus following more than 40 years of service in academia.
Dr. Hammond was a pioneer in the treatment of gestational trophoblastic disease and a founder of the Southeast Regional Trophoblastic Disease Center for the treatment of these diseases. He was a nationally regarded expert in the area of menopause and hormone replacement therapy.
A well-respected leader in the area of women's health, Dr. Hammond received many honors throughout his career, including being named a Lifetime Achievement Award recipient from the National Association for Women's Health, a member of the Institute of Medicine and a fellow of the Royal College of Obstetricians and Gynaecologists. 
He was President of a number of professional organizations, including the American College of Obstetricians and Gynecologists (ACOG), 2002-2003; the American Gynecological and Obstetrical Society (AGOS), 1994; the American Society for Reproductive Medicine; and the North Carolina Ob-Gyn Society. He also served on the Board of Directors of the American Board of Obstetrics and Gynecology (ABOG).
In his role as President of ACOG, Dr. Hammond stressed the importance of increasing awareness about heart disease in women among both patients and the medical community.
In his tribute honoring him as a Duke Emeriti Faculty member, the following was noted, "Heavily committed to student education, Dr. Hammond relished his 22 years as Chair of the Department of Ob/Gyn, as well as his term as residency program director for the Department. In addition to overseeing these programs, he enjoyed his role as a teacher and mentor during student rotations, lectures and weekly conferences, where he shared his clinical wisdom and deep concern for the welfare of patients." 
DR. HAMMOND'S LEGACY
Dr. Hammond's dedication to training the next generation of specialists and subspecialists lives on as his legacy. His commitment to advancements in women's health continues through the Charles B. Hammond, MD, Research Fund, and through Charles B. Hammond, MD, Research Day (formerly Residents' Day). Established in 1998, the Hammond Fund provides funding to promote innovative research in human reproduction, both clinical and basic, that will expand the body of knowledge essential to the care and health of women throughout their lives. At Duke Ob/Gyn's annual Hammond Research Day, residents and fellows present their research, representing the culmination of months of thoughtful inquiry, hard work and personal and professional growth. 
A celebration of life will be planned in the future. The family requests that any who wish to honor Dr. Hammond do so by donating to the Charles B. Hammond, MD, Research Fund.