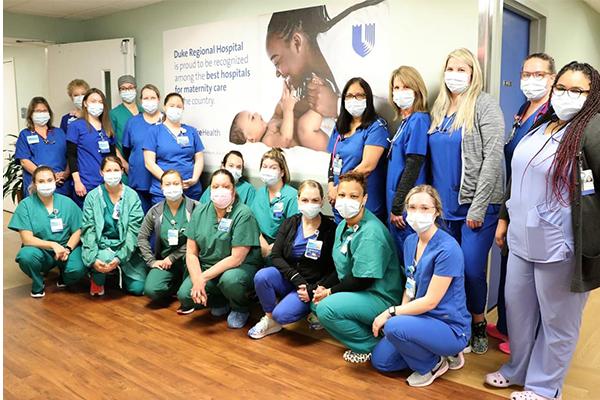 After successfully completing all steps of a rigorous multi-year process that entailed coordination of both outpatient and inpatient education, overcoming supply chain and procurement challenges during a pandemic and demonstrating collaboration across a vast geographical area in the Triangle, Duke Regional Hospital has achieved the prestigious Baby-Friendly® Designation.
This distinguished honor demonstrates that Duke Regional is adhering to the highest standards of care for breastfeeding mothers and their babies. These standards are built on the Ten Steps to Successful Breastfeeding, a set of evidence-based practices recommended by the World Health Organization (WHO) and the United Nations International Children's Emergency Fund (UNICEF) for optimal infant feeding support in the first days of a newborn's life. In cases where patients have a medical indication or have made an informed decision to use formula, resources for the safe preparation and feeding of formula are provided to mothers.
The Baby Friendly Journey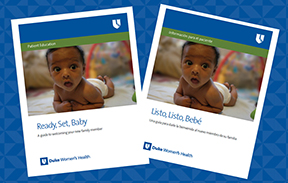 Duke University Health System team members from Duke Regional and Duke Obstetrics and Gynecology committed hundreds of hours of time to accomplish the rigorous requirements. To meet the education requirements, specific Ready, Set, Baby (RSB) patient education materials were introduced at the clinic level. Additionally, continuous commitment to implementing and upholding the Ten Steps to Successful Breastfeeding are mandated in order to be designated as Baby Friendly, according to Clinical Operations Director of Women's Services Melissa Murray, MSN, RN, CNML.
"Our clinics were committed to championing these efforts, and ensuring that educational material was provided at milestone visits, as well as shared through MyChart as digital assets," said Obstetrics and Gynecology Regional Director Krista Wilson, MHA, RN, AMB-BC, CPPS.
Wilson noted that Durham Ob/Gyn Health Center Administrators Abbey Loftis, RN, and Laura Zinsmayer, BSN, RN, (who also serve as clinic nurse managers), took on vast amounts of work, in addition to their regular clinical responsibilities — including personally visiting clinics in a large geographic area to share resources and curriculum. They were responsible for the implementation processes for the program. They created a new visit type for education, planned coordination of teaching efforts and created a full education program, as well as served as educators for managers and staff, and auditors of the process.
At Duke Regional, Labor and Delivery, Mother-Baby and Special Care Nursery team members simultaneously took the lead on ensuring that evidence-based practices are followed for optimum feeding and health promotion for newborns and their families — despite being in the midst of COVID-19, and with staffing challenges. Ensuring patients are able to learn and have the opportunity to ask questions throughout their pregnancy, with a smooth transition from clinic visits to the hospital setting at the time of delivery, is the goal.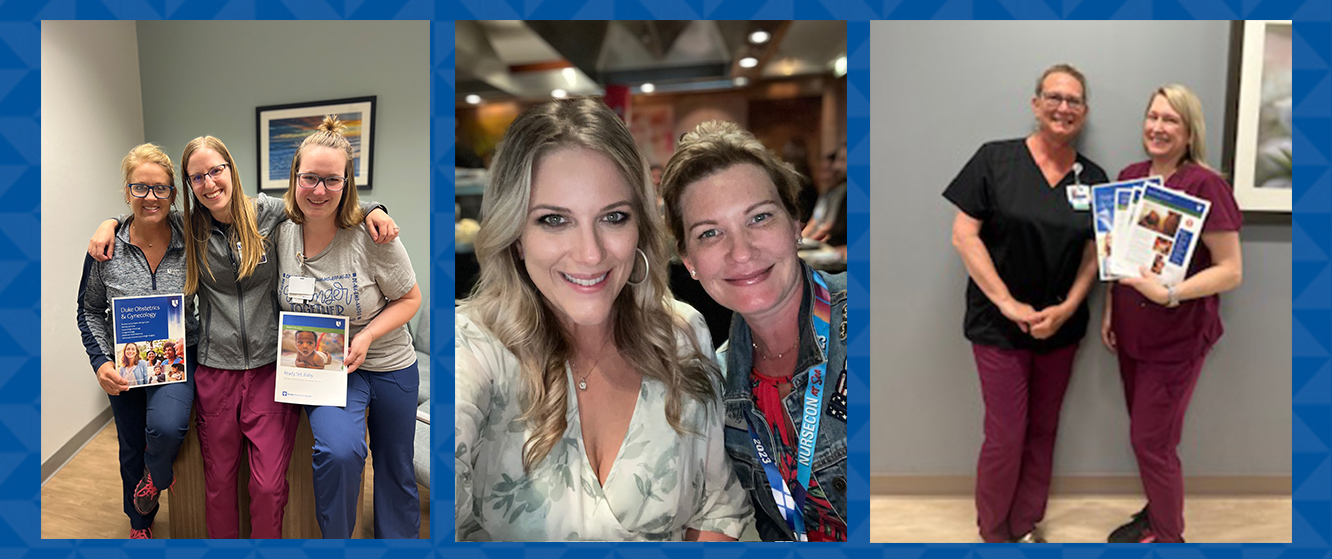 "The early education occurs in the prenatal period. The education promoted in the clinics allows for patients to explore their feeding preferences and clarify needs prior to delivery. The continuity of providers from the clinic to the hospital also allows for the care pathway to be consistent," noted Nurse Manager of Operations at Duke Regional Hospital Margaret (Maggie) Joines Oakes, MSN, RNC-MNN. "It truly was a comprehensive 'One Duke' effort.  The inpatient setting service line has worked to ensure that patients are supported in their desires of feeding choice and that the best scenario for appropriate outcomes is achieved. Throughout the designation phases, Education Services assisted with managing classes that continued through the pandemic. Our lactation consultants worked to educate staff on methods to communicate and support patients while promoting best practices, while also consulting with patients at the bedside. We worked with Procurement & Supply Chain Management for compliant purchasing. The nursing team has supported patients by performing duties at the bedside to promote breastfeeding, bonding and full transparency of care."
Without the collaboration and coordination of all stakeholders, the process would not have been streamlined and successful.
"When patients deliver their babies at the Birth Place at Duke Regional, they are prepared for their childbirth experience and how to care for and feed their babies," said Associate Chief Nursing Officer, Duke University Health System, Kimberly Wood, DNP, RN, NE-BC.  
Wood adds that ensuring an educational roadmap is in place for obstetric patients throughout their pregnancies is the key to making everything work, and work well.
 "The RSB education gives mothers a realistic expectation of the postpartum period, specifically geared toward infant feeding. Our clinics designed templates, studied material and implemented a new education process with proven success. We couldn't be more proud of the entire team," said nurse educator Loftis.  Zinsmayer, who worked hand-in-hand with Loftis, concurs, specifically noting that what's most important is meeting patients where they are — and that they reach the next phase of their parenthood journey well-prepared.
"There is so much information to share with our patients. Our new, first-time moms love the information and come with questions. Our more experienced moms like the refresher and to find resources," said Zinsmayer.