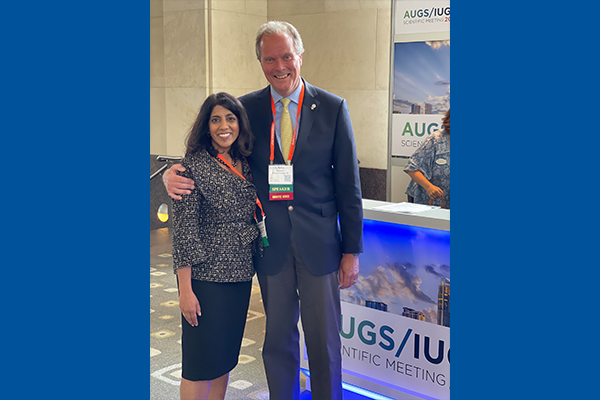 The Division of Urogynecology was well-represented at the recent AUGS/IUGA annual meeting, which included exceptional presentations and scientific collaborations by faculty, fellows, medical students, and urology and ob/gyn residents. The meeting was a combined national/international meeting between AUGS (American Urogynecologic Society) and IUGA (International Urogynecological Association). Nazema Siddiqui, MD, MHSc, served as the AUGS co-chair; and Dudley Robinson, MBBS, MD, FRCOG (urogynecologist from Kings College Hospital in London, UK) served as the IUGA co-chair (pictured).
Highlights:
Workshop faculty:
Cassandra Kisby, MD, MS: Basic Science Program

Nazema Siddiqui, MD, MHSc:  Urobiome 101
Late-breaking Abstract

:                                                         
Standard restrictions versus expedited activity after pelvic organ prolapse surgery: a randomized non-inferiority trial
FPMRS fellow Michele O'Shea, MD, MPH (Class of 2022); Tracy Truong, MS; Alaattin Erkanli, PhD; Nazema Siddiqui, MD, MHSc; and Matthew Barber, MD, MHS
Prize Winning Abstract for QOL research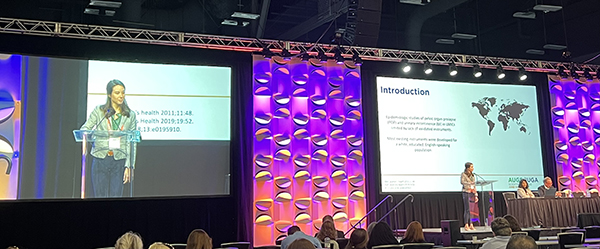 Development and Initial Validation of a Pictorial Scale to Assess Symptomatic Prolapse and Urinary Incontinence
FPMRS fellow Michele O'Shea, MD, MPH; Jackton Omoto, MD; Megan Huchko, MD, MPH; and Stephen Gwer, MD
Mini State-of-the-Art Lecture
Using Prediction and Innovative Modeling Approaches to Understand How Large-scale Data Apply to Your Patient
James Hokanson, PhD (KURe Scholar alumnus)
Podium presentations
Urinary Microbiome, Trends in Anti-incontinence Surgery at Time of Pelvic Organ Prolapse, and Inequities of OAB Medication Prescriptions
Urology resident Gabrielle Rohrer, MD

Ob/Gyn resident Gregory Zemtsov, MD

FPMRS fellow Doug Luchristt, MD
Video presentations
Robotic Urethral Diverticulum and Placement of Sacral Neuromodulator Lead
FPMRS fellow Michele O'Shea MD, MPH (Class of 2022)

FPMRS fellow Doug Luchristt, MD, MPH
Two additional highlights of the meeting were the annual Duke alumni gathering, pictured below, and the outstanding win of the 5K Run Around Austin event by Dr. Cassandra Kisby.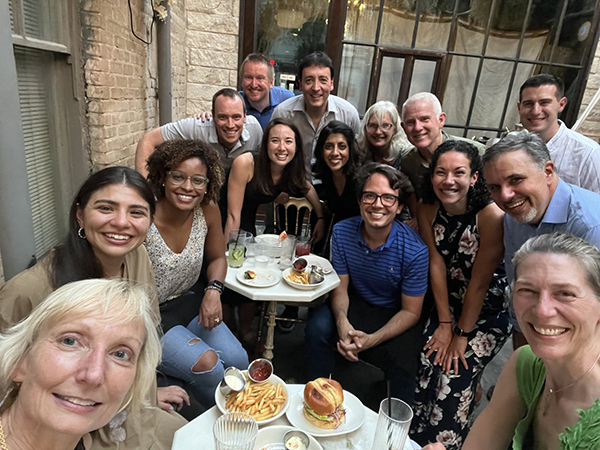 Q & A with Fellow Michele O'Shea, MD, MPH
Michele O'Shea, MD, MPH (Class of 2022, Duke FPMRS Fellowship Program) traveled to Africa to help Kenyan women through a research project focused on creating and validating illustrations to assess patient symptoms of prolapse and incontinence. Her award winning work was highlighted at the 2022 AUGS/IUGA Meeting. Here is a summary of Dr. O'Shea's global health work.