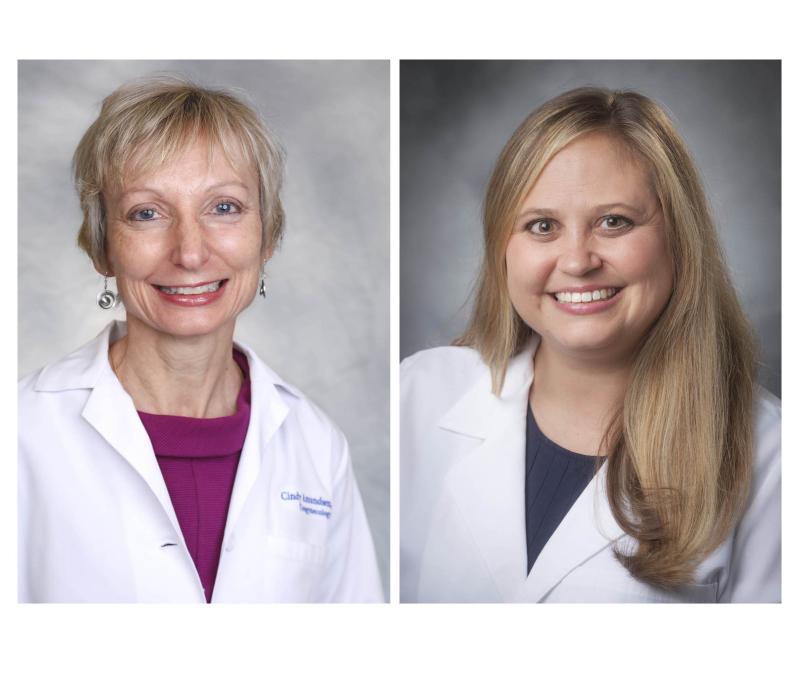 Urogynecologist Cindy Amundsen, MD, has been awarded a 5-year $760,000 grant supported by the NIH Eunice Kennedy Shriver National Institute of Child Health & Human Development of the National Institutes of Health (NICHD), for the AUGS/DUKE Urogynecology Clinical Research Educational Scientist Training (UrogynCREST) program, and a proposal  submitted by Gynecologic Oncologist Rebecca Previs, MD, MS, to the Emerson Collective Cancer Research Fund has been selected to receive funding of 100,000/year for two years.
Urogynecology
The AUGS/DUKE Urogynecology Clinical Research Educational Scientist Training (UrogynCREST) program will prepare participants to recognize the critical role that data play in delivering high quality health care and will target Urogynecology Faculty across the country at the Assistant Professor level who seek successful careers in health services research (HSR) and analytics. As Principle Investigator and Program Director, Dr. Amundsen will build a team of Duke experts in health service, medical informatics and prediction modeling by collaborating with faculty from the Departments of Biostatistics and Bioinformatics, Medicine, Ob/Gyn, and Population Health. She will also work with national leaders recognized as mentors in women's health service research.  The UrogynCREST program will be an interactive, hands-on educational program with centralized activities organized and delivered by distance through an on-line learning platform, with educational software designed to support teaching, research and collaboration. The program's strategy allows national leaders with particular skills in the field to provide their knowledge to the participants and help mentor them through development of a relevant research question and identification of an appropriate and existing database(s) to address the question. Those interested in applying can do so at www.augs.org
Gynecologic Oncology
The Emerson Collective Cancer Research Fund proposal submitted by Dr. Previs and co-PIs, Dr. Kyle Strickland (Department of Pathology) and Dr. John Yi (Department of Surgery), "Exploring the immune contexture of molecularly characterized uterine cancers," was selected for funding by an expert panel from a total of 23 outstanding applications. The period of performance is May 6, 2019 – May 5, 2021.
The Emerson Collective supports the innovative cancer research at Duke University. Its Health Team oversees this grant program, which includes at the moment 19 university/institute sites in the US and abroad; this is the first launch at Duke University.