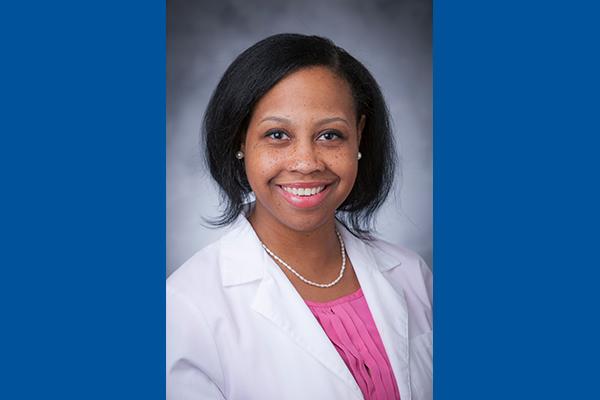 Spotlight: Duke Clinical & Translational Science Institute KL2 Scholar Sarahn Wheeler, MD 
In partnership with Diaper Bank of North Carolina, KL2 Scholar Dr. Sarahn Wheeler has been researching barriers to preterm birth preventive care in Black women. The ultimate goal of this research project is to help reduce the burden of preterm birth for Black women.
Diaper Bank of North Carolina's mission is to ensure that every North Carolina family has access to basic necessities to support their dignity, health, and quality of life. This aligns well with Dr. Wheeler's research, as many pregnant people who struggle with adherence to preterm birth prevention face challenges securing these basic needs.
"Babies born preterm are at risk for long-term health problems, and many die due to complications of prematurity," Dr. Wheeler said. "In the U.S., 10 percent of babies are born preterm each year. Among Black birthing people, that number is nearly double."
Through her project, Dr. Wheeler is also working to develop interventions that incorporate community doula support and group prenatal social support. Her partnership with Diaper Bank has helped introduce her to other community organizations dedicated to the cause.
"Working with the Diaper Bank and the other community organizations has given me a broader understanding of the Durham community and the incredibly resilient spirit of Durhamites," Dr. Wheeler said. "It's often easy to focus on ways that communities and families are "disadvantaged" without understanding the strength and resilience within the community.  The Diaper Bank and the entire Community Advisory Board, have a deep understanding and respect for the Durham community and its strengths."
Source: Duke CTSI
---