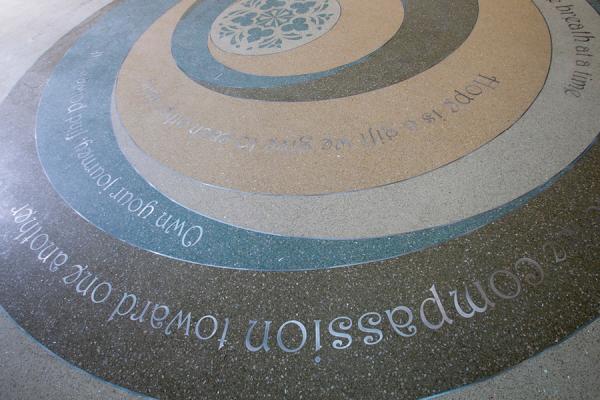 Duke Cancer Institute oncologists blaze the trail
By Julie Poucher Harbin, Duke Cancer Institute
In October 2022, gynecologic oncologists Brittany Davidson, MD; Haley Moss, MD, MBA; and Angeles Alvarez Secord, MD, MSc, participated in national-level events under the auspices of the White House Cancer Moonshot Initiative. The focus was on breast and gynecologic cancers.
First launched in 2016 by the Obama administration and led by then–Vice President Joe Biden to "accelerate scientific discovery in cancer, foster greater collaboration and improve the sharing of cancer data," the Cancer Moonshot was reignited in February 2022 by President Joe Biden and first lady Jill Biden, EdD. The new goals
are to "reduce the cancer death rate by half within 25 years and to improve the lives of people with cancer and cancer survivors."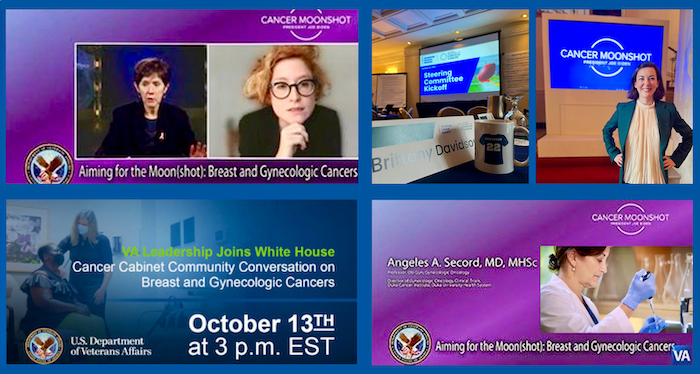 Dr. Davidson was invited as a member of the steering committee of the American Cancer Society National Roundtable on Cervical Cancer, which aims to "reduce barriers to care, eliminate disparities, reduce harms and promote new technologies in all persons with a cervix."
Dr. Moss, who leads the U.S. Department of Veterans Affairs (VA) Breast and Gynecologic Oncology System of Excellence, and Dr. Secord participated in a virtual White House Cancer Cabinet Community Conversation on Breast and Gynecologic Cancers moderated by Carolyn Clancy, MD, assistant under secretary for Health for Discovery, Education and Affiliate Networks at the Veterans Health Administration.
Dr. Secord, president-elect of the Society of Gynecologic Oncology, was asked by Dr. Clancy how to expand clinical research opportunities in the general population of cancer patients to ensure that studies are more diverse — representative of the general population. According to the FDA, only 8% of participants in clinical trials that led to FDA approvals were Black, which Dr. Secord said, "limits the ability to assess underlying prognostic factors and explore underlying tumor biology."
Dr. Moss drew attention to three new pieces of legislation in the areas of breast and gynecologic oncology — the MAMMO (Making Advances in Mammography and Medical Options for Veterans) Act, the SERVICE Act (Supporting Expanded Review for Veterans in Combat Environments) and the PACT Act — which allows the VA to expand care and benefits to more veterans with environmental exposures during their military service and expands the types of cancers that are now presumed to be service-connected disabilities, including breast and gynecologic cancers. They were passed by Congress over the summer of 2022 to increase and expand screening, testing and treatment opportunities for veterans.
Read the complete article on Duke's Cancer Moonshot initiatives.
---