Highlights in Maternal-Fetal Medicine research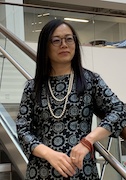 Liping Feng, MD
Division of Reproductive Sciences
Dr. Feng's goals as a research scientist are to improve pregnancy by understanding the mechanisms of placenta-originated pregnancy complications.
Currently, she has three lines of investigation focused on the roles of inflammation and infection, cell aging and environmental exposure in placental development and subsequent pregnancy complications.
Much of her work has focused on studying Ureaplasma parvum, an infectious organism that often causes preterm birth. Through her research, she has learned that this organism stimulates a chemical in the body that weakens the fetal membrane and can cause preterm birth. Dr. Feng is also studying the role of the hormone progesterone in preterm birth and hopes to continue her research to improve maternal-fetal outcomes, as well as her global health research involving the impact of environmental contaminants and exposures on maternal-infant outcomes.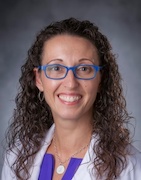 Jennifer Gilner, MD, PhD
Maternal-Fetal Medicine Specialist
Medical Director, Duke University Hospital Birthing Center
Dr. Gilner's work is centered on the hypothesis of immune dysfunction in preterm birth, integrating immunologic research with high-risk obstetrical clinical practice to identify new immune system targets for reducing the burden of preterm birth. Immune system tolerance is a requisite for a healthy pregnancy, but not every woman's immune system is accepting of a growing baby, particularly in women with preexisting immunological conditions.
Dr. Gilner has partnered with numerous colleagues across Duke, including immunologists and rheumatologists, to pursue this work. Her projects focusing on T cell tolerance and preeclampsia in particular have resulted in promising new discoveries, as Dr. Gilner works to identify new biomarkers to help reduce the incidence of preterm birth in women with pre-existing autoimmune disorders.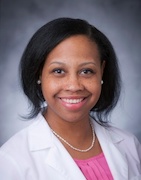 Sarahn Wheeler, MD
Maternal-Fetal Medicine Specialist
Director of Diversity and Inclusion, Duke Ob/Gyn
Dr. Wheeler aims to eliminate racial disparities in preterm birth, particularly among Black women. Dr. Wheeler is the director of the Duke Prematurity
Prevention Program, a multidisciplinary clinical program that provides care to women at highest risk for preterm birth. She has worked to integrate research efforts into the clinical program, ensuring equitable access for all patients at risk for preterm birth. She has studied the impact of racial and ethnic variation in the cervical microbiome on preterm birth, understanding and eliminating barriers to accessing preterm birth preventive therapies among Black women, and identifying different employment situations as potential barriers to preterm birth prevention in Black women.
Dr. Wheeler has also utilized research funding to develop and sustain research partnerships with community-based organizations focused on maternal health, which are critical to ensuring her work addresses issues and concerns that are important to the Durham community. Additionally, Dr. Wheeler chairs the Society for Maternal-Fetal Medicine's Diversity and Inclusion Committee.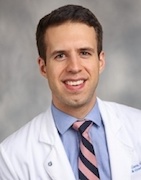 Luke Gatta, MD
Maternal-Fetal Medicine Fellow
Dr. Gatta (Residency Class of 2020), under the mentorship of Dr. Jennifer Gilner and other colleagues from Duke, is currently conducting a study on Placenta Accreta Spectrum (PAS) focusing on the validation of the International Society of Ultrasound in Obstetrics and Gynecology consensus for reporting PAS, which is endorsed by the Society for Maternal-Fetal Medicine.
Dr. Gatta notes that PAS is a complex disease and, for patients, a terrifying diagnosis. The single most important variable in management is being with the right team at the right time. This means a scheduled delivery with a skilled, multidisciplinary team.
Dr. Gatta's research is intended to validate the ISUOG checklist, formulated in 2016. The goal is to validate the ISUOG consensus to see if it can distinguish PAS detected in the operating room. Secondary objectives will be to see if it is predictive of FIGO staging severity, unscheduled bleeding and other clinical pathologic outcomes.
Drs. Gatta and Gilner, along with maternal-fetal medicine specialists Sarah Ellestad, MD; Brita Boyd, MD; and Anthony Swartz, BS, RT(R), RDMS, recently received a Duke Artificial Intelligence SPARK Award for the proposal titled "LAIPPAS (Leveraging Artificial Intelligence to Predict Placenta Accreta Spectrum)," which will forge collaboration with The Center for AI in Radiology. The Department of Ob/Gyn partnered with Duke AI Health and the Duke Center for AI in Radiology (DAIR) to offer the awards.
AI and machine learning offer potential to advance the way clinicians diagnose disease and deliver healthcare.
The goal of the AI Spark Awards is to facilitate research in AI focusing on medical imaging to generate high visibility publications and preliminary data for grant applications or clinical implementation.
The LAIPPAS project will pilot machine learning algorithms to evaluate sonographic images of suspected PAS. The research is conducted as part of the Duke PAS Program.
Learn more: Validation of ISUOG Consensus for Reporting PAS
Center for Women's Health Data Science Biannual Report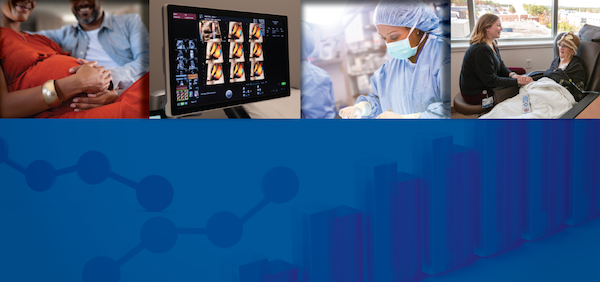 The number of reported pregnancy related deaths in the United States steadily increased from 7.2 deaths per 100,000 live births in 1987 to 17.3 deaths per 100,000 live births in 2017, according to The Centers for Disease Control and Prevention. The Duke University Health System and Duke Ob/Gyn's Division of Maternal-Fetal Medicine are leading efforts to decrease disparities across areas of care delivery, including maternal and newborn health and preterm birth. Maternal-fetal medicine specialist Brenna Hughes, MD, MSc, has led development of the Maternal Morbidity Dashboard, which allows obstetric providers a way to visualize and develop interventions for reducing severe maternal morbidity and health disparities.
In addition to this work, Duke faculty and collaborators in the Center for Women's Health Data Science, led by J. Eric Jelovsek, MD, MMEd, MSDS, are harnessing the power of these data to make better clinical decisions and benefit patients. A summary of this work appears in the Center for Women's Health Data Science Biannual Report.