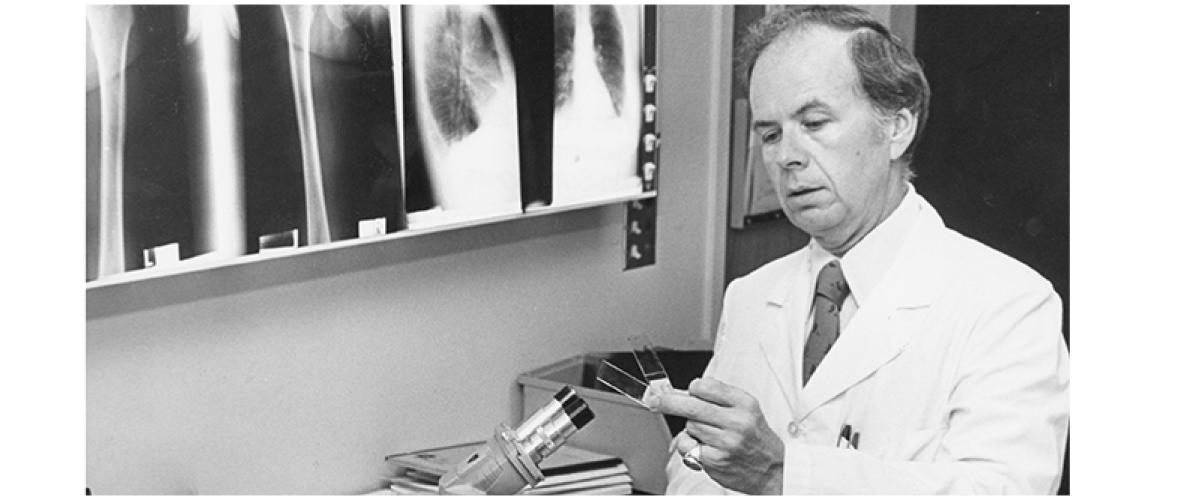 By Julie Poucher Harbin, Senior Writer, Duke Cancer Institute; and Jane Black, Duke Ob/Gyn Director of Communications & Marketing
In 1972, William T. Creasman, MD, established the Division of Gynecologic Oncology in the Department of Obstetrics and Gynecology (OB-GYN) at Duke, becoming the division's first chief. This coincided with Duke becoming an officially designated Comprehensive Cancer Center by the National Cancer Institute, then under the leadership of William Shingleton, MD (now deceased).
Four years before, Duke had already made its first big mark in the gynecologic oncology field.
In 1968, Charles B. Hammond, MD, then a clinical associate, founded the Southeastern Regional Trophoblastic Disease Center at Duke, the first center of its kind in the region to combat gestational trophoblastic disease, the development of abnormal cells inside the uterus in the tissues surrounding the fertilized egg that can go on to form cancerous and benign tumors. Using what he learned at the NIH (National Institutes of Health), Duke gynecologists were able to offer patients chemotherapy treatment to prevent the malignant form of the disease from spreading.
Today, this rare disease is considered a curable condition.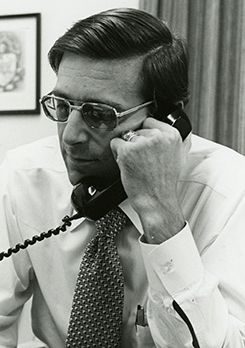 "Probably the thing I'm most proud of is, I was lucky enough to go to the National Institutes of Health in the mid-60s at a time when malignancy was being treated that grew from the placenta, or the afterbirth — a universally fatal disease," noted Hammond, who passed away in February 2021, in a 2011 Duke Medicine (now Duke Health) video chronicling his career highlights. "Someone there had just made a discovery that showed it could be cured with drugs, and while I was there, we refined those drugs; expanded the cure rate to approach 100 percent. The fundamental idea of using drugs in that disease was a radical new one. It had been tried but really hadn't been proven. And when I was there, we were able to try it on nearly 100 patients … and then expanded to the center here [at Duke]. It transformed a disease, one of the first diseases that was ever cured with chemotherapy. It was a very gratifying time. We didn't cure everyone, particularly in those early years, and some patients, unfortunately, had complications of the treatment… that's how we learned."
The commitment of the Division and Duke Cancer Institute to research and innovation in gynecologic cancers continued throughout the 20th century and entered a new era of discovery in the 21st century.
From individualized treatment, including targeted therapies and immunotherapy; to lifesaving surgical procedures and clinical trial opportunities across disciplines for patients who otherwise would not have treatment options available; to the burgeoning field of onco-fertility (fertility preservation options for cancer patients); treating gynecological cancers has come a long way.

Importantly, as a multitude of treatment options have become available, there's been a greater focus on quality, safety, affordability, and improved provider-patient communication around treatment goals and quality of life.
And gynecologic oncology faculty have also made global inroads in gynecological care and research — establishing partnerships in more than 10 countries across four continents.
TOP PHOTO:
William Creasman, MD, considered one of the founding fathers of the subspecialty of gynecologic oncology, was hired by then-Department of Obstetrics & Gynecology chair Roy T. Parker, MD (now deceased), in 1970 as the first fellowship-trained gynecologic oncologist at Duke and was the founder of the department's Division of Gynecologic Oncology in 1972. Creasman is currently a professor at the Medical University of South Carolina. (photo courtesy of Duke Medical Archives, circa the 1970s)
Read about Milestones in Gyn Onc at Duke