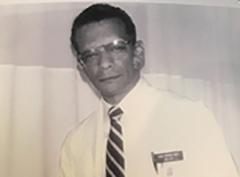 Duke Ob/Gyn will present its 2022 Donald T. Moore, MD, Endowed Lecture honoring the legacy of the esteemed physician, educator and community leader on April 20, 2022 from 7:30 a.m. to 9:30 a.m. in the Duke South Amphitheater (with a virtual option to participate). Following the evolving desegregation of Duke Hospital, Dr. Moore had a tremendous impact as the first African American Fellow in the School of Medicine. He also served as Chief of Ob/Gyn at Lincoln Hospital, which later became Lincoln Community Health Center, and trained many Duke residents, medical students and nurses.
The featured speaker will be Rachel R. Hardeman, PhD, MPH, who will present on the topic, "Maternal Healthcare Disparities and Black Maternal Health Week." This year's lecture will immediately follow Black Maternal Health Week (BMHW), which is recognized from April 11-17th annually. Dr. Hardeman will speak from 7:30 a.m., and a panel discussion will take place at 8:30 a.m.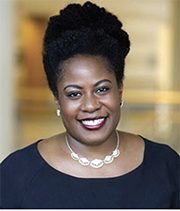 Dr. Hardeman is a reproductive health equity researcher and a tenured associate professor in the Division of Health Policy and Management at the University of Minnesota School of Public Health. Dr. Hardeman's research applies the tools of population health science and health services research to elucidate a critical and complex determinant of health inequity — racism. She leverages frameworks of critical race theory and reproductive justice to inform equity centered work, aiming to build empirical evidence of racism's impact on health, particularly for Black birthing people and their babies. BMHW was establish by the Black Mamas Matter Alliance five years ago with the goals to:
deepen the national conversation about Black maternal health in the U.S.
amplify community-driven policy, research and care solutions
center the voices of Black Mamas, women, families and stakeholders
provide a national platform for Black-led entities and efforts on maternal health, birth and reproductive justice
enhance community organizing on Black maternal health
Following the lecture, the panel discussion will focus on combating disparities in maternal healthcare and will be moderated by Maria Small, MD, MPH. 
Dr. Small is well known for her work in maternal health equity on the local, national and international levels. The panel discussion will bring together local experts in maternal and child health equity to discuss applications of lessons learned from Dr. Hardeman's work to the local environment and daily work in the community. 
Panelists:
Rachel Hardeman, PhD, MPH - Featured speaker
Keisha Bentley-Edwards, PhD, MA - Duke University School of Medicine Dept. of Medicine
Mia Mallory, MD, MEd - Duke University School of Medicine Dept. of Pediatrics
Whitney Robinson - Duke University alumna ('08) and founder of The Reneé (read more).
CMEs will be available to Duke users with a CME account and non-Duke users with a Duke OneLink account.
All in-person attendees must show proof of vaccination. A virtual option is available.
(please do not click the Zoom link prior to the event)