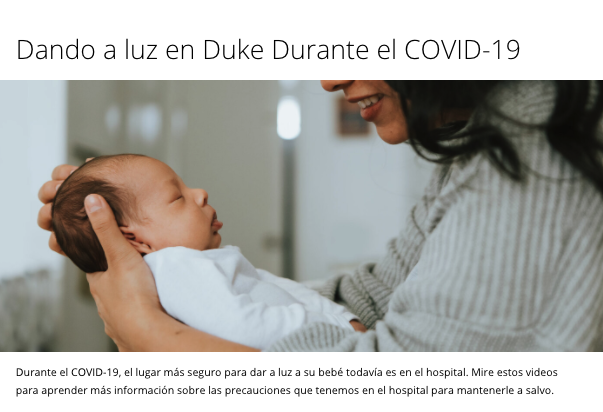 Duke Ob/Gyn, Duke Family Medicine and Community Health, Duke Pediatrics, Duke Health and Duke University Hospital have collaborated with community organizations to produce educational videos in Spanish about COVID-19 for Latinx patients.
"Several providers met to express the need for patients to have these discussions earlier in the pregnancy rather than when giving birth in the hospital. Our goal was to to connect providers and share information across institutions. Through this partnership, we are now able to disseminate useful updates with the Latinx population about COVID-19, pregnancy, birth, breastfeeding and the newborn phase —  sharing throughout the community, as well as in the hospital setting. Our goal is to allay fears and offer reassurance about rooming in, babies staying with their mothers, breastfeeding, etc.," said Beverly Gray, MD, Division Chief of Women's Community and Population Health in the Department of Ob/Gyn. "We plan on partnering with the Health Department and to continue to work with community partners to communicate the information to Spanish speaking community members."
Messaging includes the following key points:
It is very important to seek routine prenatal care, even while in a pandemic.
Providers at Duke are ensuring that the clinic and labor and delivery units are safe places where patients can receive care and have their babies, respectively.
Healthcare providers are here to share information about what patients should do to stay healthy and prevent COVID-19 transmission.
Concerns about what happens when patients have COVID-19 in pregnancy are normal, and information is available.
Rooming in after delivery — what to expect.
Facts about breastfeeding with COVID-19 and bonding if separation occurs.
The effort is a result of a collaboration between Latin 19 (Latinx Advocacy Team & Interdisciplinary Network for COVID-19/Duke Office for Institutional Equity), Family Connects Durham, Breastfeed Durham, the Durham County Department of Public Health, Lincoln Community Health Center and the following Duke faculty and staff/community partners:
Beverly Gray, MD (Women's Community and Population Health)
Maria Small, MD, MPH; Brenna Hughes, MD, MSC; Sarah Dotters-Katz, MD, MMHPE; and Sarahn Wheeler, MD (Maternal-Fetal Medicine)
Angel Nieves, MD, PhD (Duke Women's Health Associates)
Sarah McWay Boling, BSN, RNC-OB; Brenna Harmon, RN, IBCLC; Estela DiFranco Field, BSN, MSN, CNM; and Caitlin Georgas (Duke Birthing Center)
Sophie Shaikh, MD, MPH and Gabriela Maradiaga, MD (Duke Pediatrics)
Viviana Martinez-Bianchi, MD, FAAP (Duke Family Medicine and Community Health
Tatiana Acosta, MD, MPH (resident, Duke Ob/Gyn)
Love Anderson, Breastfeed Durham
Special thanks to Duke Hospital Communications for facilitating videography for this project.
[video: https://youtu.be/h7aUmqIwWYM]
Click here for additional videos on Duke Health's website.