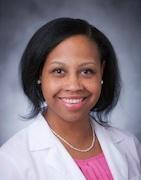 Matthew D. Barber, MD, MHS, Chair of Duke Ob/Gyn, today announced the appointment of Sarahn M. Wheeler, MD, as Vice Chair for Diversity, Equity and Inclusion for the Department
In his announcement to the Department, he noted that over the past four years, Dr. Wheeler has done a remarkable job as Director of Diversity and Inclusion. In this role, she has been instrumental in establishing an active and impactful Departmental Diversity and Inclusion Committee, and developing Departmental policies that promote diversity and inclusion in multiple areas, including:
faculty hiring and resident and fellow selection
educational programs on unconscious bias and bystander training 
community engagement – enhancing programs to improve the care for those in our community who need it most
"Establishing this new Vice Chair role, and appointing Dr. Wheeler to it, is an important step toward our Department's contribution to Duke Health's ambitious stand against racism, and for equitable and just care for our patients and our community. As Vice Chair for DEI, Dr. Wheeler will expand on the accomplishments she has led over the past four years and include a new focus on providing equitable care to all patients we care for. She will serve as a member and important voice in the Department's Executive Committee," Dr. Barber stated.
Dr. Wheeler graduated magna cum laude from Harvard University with a Bachelor of Arts degree in psychology. Her educational focus included coursework in organizational psychology. After graduating, she was recruited to work as a human resources specialist for an international Fortune 500 Company. In that role, she was responsible for ethical and equitable hiring and employee relations. She completed medical school at the University of Chicago Pritzker School of Medicine. Dr. Wheeler went on to residency training in obstetrics and gynecology at The Johns Hopkins Hospital. She completed her maternal-fetal medicine subspecialty training at Duke University in June of 2016, subsequently joining our faculty. She is currently an Assistant Professor of Obstetrics and Gynecology and serves as Director of the Prematurity Prevention Program. She is also the Vice Chair of the Diversity and Inclusion Committee for the Society for Maternal-Fetal Medicine. 
Applications being accepted for Associate Director of DEI
Dr. Barber also announced that in addition to establishing the Vice Chair of DEI role, Duke Ob/Gyn is also soliciting applications for Associate Director of DEI for the Department of Ob/Gyn. The individual will work closely with Dr. Wheeler to develop and execute the Duke Ob/Gyn DEI strategic plan. All interested Duke Ob/Gyn Department members – including faculty, advanced practice providers and administrative staff – are eligible. Trainees (residents, fellows) are not eligible for this position, but are encouraged to serve on the DEI Committee or work on DEI-related projects. 
10% effort will be supported by the Department for this position
Applicants with experience in DEI, leadership, strategic planning and/or community engagement are highly encouraged to apply
Applicants should submit applications application at this link
Applications will be accepted through March 1, 2022.