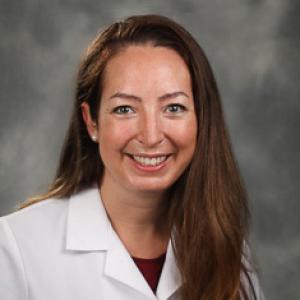 Maternal Fetal Medicine
Program: 
Start Year: 
2020
Why did you choose Duke for your fellowship training?
I chose Duke for its excellent clinical training with a medically complex and diverse patient population, its phenomenal research opportunities in both basic and clinical science and for the incredibly supportive and successful group of faculty who will be both my mentors and colleagues.
What excites you about the fellowship program at Duke Obstetrics and Gynecology?
Everything! The clinical training, the opportunities for education and the dedicated time and resources available to help me explore and develop projects related to my specific interests.
What are your career goals?
Practice Maternal-Fetal Medicine within an academic center with an emphasis on clinical practice and education.
What are your hobbies?
I enjoy spending time outside with my fiancé & Goldendoodle puppy (Paisley), cooking, traveling, and watching sports.
Education & Training
Undergraduate & graduation year
University of South Carolina, Columbia SC - 2010
Medical school & graduation year
University of South Carolina School of Medicine-Greenville, Greenville, SC - 2016
Residency & graduation year
Vanderbilt University, Nashville, TN - 2020
Awards &Honors
AAGL Recognition of Excellence in Minimally Invasive Gynecology, Vanderbilt University, 2020
Society for Maternal-Fetal Medicine Residency Program Award for Excellence in Obstetrics, Vanderbilt University, 2019
Clinical Excellence Award, University of South Carolina School of Medicine Greenville, 2014;
Pedestal Scholar, University of South Carolina School of Medicine Greenville, 2012
Publications & Presentations
Shashy LN, Craig AM, Sanlorenzo, LA, Osmundson SS. Neonatal trauma following motor vehicle collision in pregnancy. NeoReviews May 2020;21(5);e342–e344.
Zuckerwise LC, Craig AM, Newton JM, Zhao S, Bennett KA, Crispens MA. Outcomes following a clinical algorithm for delayed hysterectomy in the management of severe placenta accreta spectrum. American Journal of Obstetrics & Gynecology 2020 Feb;222(2);179.e1-9.
Craig AM, Dotters-Katz S, Kuller JA, Thompson JL. Listeriosis in Pregnancy: A Review. Obstetrical & Gynecological Survey. 74(6):362-368.June 2019.
CE Likes, AM Craig, JE Johnson, HL Higdon, WE Roudebush, WR Boone. (2013). Predicting pregnancy potential using anti-mullerian hormone (AMH) and calculating an AMH reference point. Fertility and Sterility. 100(3): S493;
Zuckerwise LC, Craig AM, Osmundson S. Comparison of Abdominal Circumference Measurement Methods for Estimating Fetal Weight in Fetuses with Omphalocele. 2019 American Institute for Ultrasound in Medicine Convention, Orlando, FL, 6-10 April 2019.
Craig AM, Heerboth SA, Chen H, Lauderdale CJ, McNeill-Simaan E, Shannon C, Zuckerwise, LC. Fetal Growth Restriction: The value of second trimester ultrasound screening. 2018 American Institute for Ultrasound in Medicine Convention, New York City, NY, 24-28 March 2018.
Craig AM, Roudebush WE, Houwing A, Higdon HL, Boone WR. Sperm head morphology (size and shape) and length-to-head ratios: An objective analysis for classification. 2013
American Association of Bioanalysts Conference and College of Reproductive Biology Symposium Abstracts, Las Vegas, NV, 16-18 May 2013.
Dmitriev A.E., Tsytsikova L., Gaume R., Craig A., Lehman Jr R.A., Symes A.J. In an animal model of posterolateral arthrodesis BMP-2 triggers postoperative allodynia and local DRG inflammation. SpineWeek 2012, Amsterdam, Netherlands, 28 May-01 June 2012.
Dmitriev AE, Cardoso MJ, Paik H, Gaume R, Craig A, Ambati D, Lehman RA. Stand alone interbody spacers for multilevel cervical reconstruction: Do they provide adequate biomechanical stability? SpineWeek 2012, Amsterdam, Netherlands, 28 May-01 June 2012.
Craig AM, Federspiel JJ, Wein L, Thompson JL, Dotters-Katz SK. Listeria in Pregnancy: What are the maternal implications? Infectious Diseases Society for Obstetrics and Gynecology, Boston, MA, 13-15 August 2020.
Likes CE, Craig AM, Johnson J, Higdon HL, Roudebush WE, WR Boone. Pregnancy outcomes and anti-Mullerian hormone (AMH): can AMH predict pregnancy potential? If yes, what is the cut-off reference value? Greenville Health System Medical Education Days, Greenville, SC, 13-14 March 2014.
Tsytsikova LV, Mitchell K, Gaume RE, Craig AM, Dmitriev AE, Symes AJ. Application of bone morphogenetic protein 2 to the rat spine induces transient ipsilateral hyperalgesia and inflammation in the peripheral nervous system. Society for Neuroscience 2011 Annual Meeting, Washington, DC, 12-16 November 2011.
Craig AM, Morgan SL, Cabrices O: Rapid qualitative identification of polymer and dye types for forensic analysis of trace fibers. University of South Carolina's Annual Discovery Day, Columbia, SC, 21 April 2010.