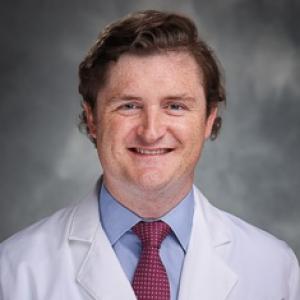 Maternal-Fetal Medicine
Program: 
Start Year: 
2021
Why did you choose Duke for your fellowship training?
Duke MFM has such a broad range of complex obstetrics, both maternal and fetal and the research support and mentorship is deeply embedded.
What excites you about the fellowship program at Duke Obstetrics and Gynecology?
Definitely my faculty and co-fellows - their enthusiasm, expertise and collegiality are second to none. Working where everyone is from somewhere else fosters a family environment.
What are your career goals?
To become the best clinician I can for my patients.
Education & Training
Undergraduate
University College, Dublin, Ireland
Medical School
University College, Dublin, Ireland
Residency
Harvard-Mass General Brigham - OBGYN
Royal College of Physicians in Ireland - Internal Medicine
Awards & Honors
Harvard Medical School OBGYN Resident Teaching Awards, 2017-19
International Society for the Study of Trophoblastic Disease, Travel Scholarship, 2019
Massachusetts General Hospital Primary Clinical Experience Teaching Award, 2017-2018
Brigham & Women's Primary Clinical Experience Teaching Award, 2017-2018
Massachusetts Medical Society Resident Ambassador, 2017-18
Fulbright International Student Scholarship, 2013-14
Astra Zeneca Postgraduate Student Scholarship, 2013-14
McKinsey & Company Postgraduate Student Scholarship, 2013-14
Royal College of Surgeons of Ireland Resident Teaching Award, 2010-11
Publications & Presentations
The MEMORY Study: Multicenter study of Minimally invasive surgery versus Open Radical Hysterectomy in the management of early-stage cervical cancer: survival outcomes
QC Zhou; B Brandt... R Sugrue, Nadeem R Abu-Rustum. Gynecologic Oncology, In-Press
Novel antithrombotic agents in pregnancy. AH James; R Sugrue; J Federspiel. Clinical Obstetrics & Gynecology, In-Press
Impact of daily oral anti-hypertensives on neonatal outcomes in superimposed severe pre-eclampsia before 34 weeks. R Sugrue, LA Gatta, JL Dillon, K Fuller, SK Dotters-Katz, MS Varvoutis American Journal of Obstetrics & Gynecology 226 (1), S473
Extracorporeal Membrane Oxygenation does not confer excess risk in Pregnancy. R Sugrue, MS Varvoutis, L Wein, K Darwin, AJ Vaught, ML Meng. American Journal of Obstetrics & Gynecology 226 (1), S78-S79
Latency to delivery among patients with superimposed severe pre-eclampsia: the impact of oral anti-hypertensive medication LA Gatta, R Sugrue, JL Dillon, K Fuller, SK Dotters-Katz, MS Varvoutis. American Journal of Obstetrics & Gynecology 226 (1), S219
Juvenile Granulosa Cell Tumor as the Presenting Feature of McCune-Albright Syndrome. BE Marks, R Sugrue, W Bourgeois, AL Frazier, SD Voss, MR Laufer. Journal of the Endocrine Society 5 (9), bvab098
Length of the 3rd stage of labor and quantitative blood loss. R Sugrue, AG Lewis, B Travis, TF McElrath, J Greenberg. American Journal of Obstetrics & Gynecology 224 (2), S515
Outcomes of minimally invasive versus open abdominal hysterectomy in patients with gestational trophoblastic disease. R Sugrue, O Foley, KM Elias, WB Growdon, RMC Sisodia, RS Berkowitz. Gynecologic Oncology 160 (2), 445-449
Hospital at home pilot for gynecologic oncology patients. O Foley, R Sugrue, K Safavi, MG del Carmen. Gynecologic Oncology 159, 285-286
Questionable conclusions about uterine balloon tamponade. JA Greenberg, R Sugrue. American Journal of Obstetrics & Gynecology
Multivariable analysis of association of beta-blocker use and survival in advanced ovarian cancer. R Gonzalez, AA Gockley, A Melamed, R Sugrue, RM Clark. Gynecologic Oncology
Improvement of radiological disease on CT after neoadjuvant chemotherapy may not correlate with chemotherapy response score (CRS) in advanced tubo-ovarian high-grade serous …R Sugrue, K James, WB Growdon, RM Clark, MG del Carmen, A Melamed, ..Gynecologic Oncology 154, 110-111
Evaluation of a quality improvement intervention that eliminated routine use of opioids after cesarean delivery. E Holland, BT Bateman, N Cole, A Taggart, LA Robinson, R Sugrue, X Xu, ..Obstetrics & Gynecology 133 (1), 91-97
Pregestational diabetes in pregnancy R Sugrue, C Zera Obstetrics and Gynecology Clinics 45 (2), 315-331
Pregnancies complicated by hypertensive disease demonstrate a high resistance vasculature in the postpartum period-results of the prospective HANDLE study C Monteith, CR Breathnach, L McSweeney, R Sugrue, A James, P Dicker, ..American Journal of Obstetrics & Gynecology 218 (1), S74
Pericardial Effusion Associated with Neoadjuvant Chemoradiation for Oesophageal Cancer at a Tertiary Referral Centre-An 8-year Experience. R Sugrue, C Fitzgerald, P Molony, D O'Hare, O McCormack, N Ravi, ..Irish Journal of Medical Science 181, S330-S331
Trans-Catheter Aortic Valve Implantation: Adverse Outcomes of 120 Cases in Two Centres. R Sugrue, S Teehan, RT Murphy, G Lynch, J McCarthy, M Tolan, M Quinn, ..Irish Journal of Medical Science 181, S321-S321
Cost Benefit Analysis of Transcatheter Aortic Valve Implantation (TAVI) Compared to Conventional Medical Treatment Including Valvuloplasties in Patients with Severe Aortic …
S Neoh, C Mahon, C Kiat, B Galvin, R Sugrue, C O'Neill, J Crowley, ..Irish Journal of Medical Science 181, S319-S319
Current Use of Oral Anticoagulation in Atrial Fibrillation Patients. RB Morgan, C Mahon, R Sugrue, M Lynch, L Blennerhassett, E Curtin, ..Irish Journal of Medical Science 181, S332-S333
Pericardial Effusion Associated with Neoadjuvant Radiotherapy for Oesophageal Cancer at a Tertiary Referral Centre. R Sugrue, C Fitzgerald, D O'Hare, P Molony, O McCormack, N Ravi, ..Irish Journal of Medical Science 181, S153-S153
Arrhythmogenic Right Ventricular Cardiomyopathy B Ramasubbu, R Sugrue, RT Murphy. Irish Journal of Medical Science 181, S107-S107
Sitaxentan-induced hepatic failure in two patients with pulmonary arterial hypertension. A Lavelle, R Sugrue, G Lawler, N Mulligan, B Kelleher, DM Murphy, ..European Respiratory Journal 34 (3), 770-771
Eyes on the future. AJ Jackson, C O'Brien, B Gallagher, E Dardis, R Sugrue, M Codd. Ireland: VISPA
Is endoscopic ultrasound with fine needle aspiration now essential for the management of pancreaticobiliary malignancy?. GC Bennett, SO Riordan, R Sugrue, R Bambury, S Sengupta, E Clarke, ..Gut 57, A29-A29
Endoscopic ultrasound fine needle aspiration: a valuable tool for evaluation of mediastinal pathology GC Bennett, R Bambury, S O'Riordan, R Sugrue, S Sengupta, E Clarke, ..Gut 57, A54-A54
Retained Placenta: The Forgotten Complication of Delivery?: A Retrospective Cohort Study of cases requiring manual removal of placenta at a tertiary maternity centre. R Sugrue, M Higgins, M Foley. Irish Journal of Medical Science 177, S270-270
Oxygen Prescription - Knowledge & Safety. R Sugrue, N Ashraf, A Aziz, E Mulloy. Irish Journal of Medical Science 176, S423-423