Duke Cancer Institute gynecologic oncologist Angeles Alvarez Secord, MD, MHSc, was installed as president of the Society of Gynecologic Oncology (SGO) at the 2023 Annual Meeting on Women's Cancer, held March 25-28 in Tampa, Florida. In addition to being welcomed into her new role at the meeting, Dr. Secord was presented with the Best Clinical Science Award for the abstract titled "Genomic Alterations, Molecularly Targeted Therapy and Race: Real World Data from the Endometrial Cancer Molecularly Targeted Therapy Consortium."
"It is my privilege and honor to serve as the 55th president of SGO," said Dr. Secord. "We value diversity, inclusion and equity across all of our strategic initiatives. Detrimental racial and ethnic disparities in gynecologic cancer survival outcomes are pervasive. To mitigate race/ethnicity-related disparities will require transformative change at all levels to ensure access to care, representation in clinical trials and building the pipeline of diverse care providers. In our shared work, we stand together committed to accelerated progress for patients, providers and community in gynecologic cancers, and to the broader needs and the call to action for all patients at risk for, or with, gynecologic cancers."
Dr. Secord has invited Ginger Gardner, MD, chair of the Foundation for Women's Cancer (FWC), to lead with her, stating, "The theme for our year is 'The Power of Shared Purpose: Transforming Gynecologic Cancer Care.'"
Commitment to Women's Cancer Care
Dr. Secord has been working on national-level White House Cancer Moonshot initiatives, along  with Duke Cancer Institute colleagues, and has been instrumental in efforts to address the impact of disparities and the need to ensure studies are more diverse so that exploration of underlying tumor biology is equitable.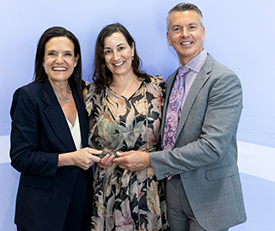 In addition to her new role as president of SGO, Dr. Secord serves on the board of the Foundation for Women's Cancer (FWC), the Gynecologic Oncology Group (GOG) Foundation and the American Association of Obstetricians and Gynecologists Foundation (AAOGF), and she is chair of its Scholar Committee. She also is the vice chair of the NRG Oncology Early Career & New Investigators Committee (NRG Oncology brings together the National Surgical Adjuvant Breast and Bowel Project (NSABP), the Radiation Therapy Oncology Group (RTOG) and the Gynecologic Oncology Group (GOG)).
Additional highlights from the SGO Annual Meeting on Women's Cancer:
Duke Ob/Gyn resident and incoming Duke Ob/Gyn gynecologic oncology fellow (academic year 2023-2024) Mary Katherine Anastasio, MD, presented data on a randomized trial of cryocompression to prevent chemotherapy induced neuropathy. Her findings are featured in Oncology Nursing News and Cancer Therapy Advisor, as well as other platforms.
Kudos to Duke School of Medicine student Karley Whelan (MS3), recipient of the SGO 2022 Best Oral Presentation Award for her abstract, "TP53-mutated Endometrial Cancers and Associations with Race and Survival Outcomes," which was presented during the SGO 2023 Winter Meeting, Feb. 2-4. She was recognized in the SGO award presentations video at the SGO Annual Meeting.
Linda Zambrano Guevera, MS (Duke MS4), was featured in Highlights from Scientific Plenary II: Purpose: Advocating for our Patients and Profession. 


Presentation: Disparities in allocation of research funding for female reproductive cancers based on race-specific disease burden.
The  SGO YouTube page includes those honors.